The Most Literary Politicians in History:
Barack Obama, Vaclav Havel, and More
by: Daniel Lefferts (Bookish.com)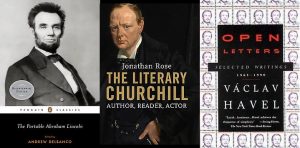 In his new book, The Literary Churchill, historian Jonathan Rose offers insight into the literary lives of politicians. Nations, he writes, want "power, wealth, trade, land, and security. But political actors also act out stories, which can have a force and a momentum of their own." And all politicians, he adds, "tell stories, whether they are grand Bonapartist myths or homey Reaganesque anecdotes, and these stories can drive policy."
Yes, politics is in many ways a long and often self-contradicting narrative; and yes, politicians are, in their own way, both readers and writers of stories. But, beyond the many who spin folktales at debates or publish read-my-memoir-and-vote-for-me fluff every year, there are a few select leaders throughout history who have risen to the rank of true literary figures. Winston Churchill, as Rose expertly demonstrates, was one of the stars of this class. But others, too, have set themselves apart with their studious reading habits and storytelling abilities. Here, we look at politicians whose words shined on the page as well as the podium.