Why "The Hundred Foot Journey" And Other Food Movies Captivate Audiences
by Elizabeth Eckhart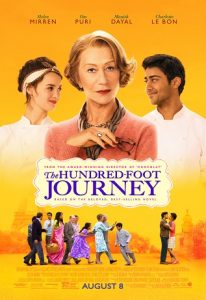 Food is something that everyone can relate to; it is what families utilize as a symbol of celebration, what traditions are based on, and what often stands as the main social activity in people's daily routines. Even romance is driven by the power of food, since many couples bond over shared adoration for styles and cultures of various foods, and dates are made by recommending that "amazing Italian place" or the "best sushi in town." Food is often a conundrum of excitement, adventure, as well as comfort and stability on one plate.
There is something about food that intrigues the mind and the heart, as well satisfies our physical and psychological hungers, so why not create a story that emphasizes that connection? There have been many novels (and subsequent films) in the past that have utilized food as the premise, and the recent movie trailer release of The Hundred Foot Journey appears to be captivating the attention of viewers with this similar idea once again.
Anything that Oprah Winfrey touches seems to turn to gold, and this film is something she and Steven Spielberg created together. The novel by Richard Morais, however, is the real treat. The story follows an Indian family residing in France after tragedy forces them to leave Mumbai. The Haji family opens an inexpensive, family operated restaurant that happens to be situated directly adjacent to the famous Madame Mallory's esteemed French restaurant.
Madame Mallory (who is played by Helen Mirren in the film) is well-known throughout the country for her astonishing cuisine – she even frequently prepares food for the President. Her business has always thrived, that is until the Haji's restaurant begins attracting curious diners in desperate need – though they don't at first know it – of the eccentric, spicy Indian food.
The Mumbai Masala eatery across is headed by father Om Puri, but made popular by the talents of son Hassan, who is a naturally gifted chef – a fact even Madame Mallory must admit upon trying his food. The plot takes a turn when Hassan begins to show a fondness for the sous chef working for the French competition, Marguerite. This film is then no longer just about delectable cuisine, it evolves into a romantic story about the budding chemistry between two very different people bonded by a passion for cooking and the power of food.
The most profound moments of the storyline circle around the difference in cultures and cuisine, and the fusion of the multiple cooks' food and lives. Of course, The Hundred Foot Journey is hardly the first novel to use food as a primary plot device. Eat, Pray, Love, as one example, was another big hit that began with food and transformed into a personal journey for the main character (the author herself, Elizabeth Gilbert). Elizabeth rediscovers food along with a zest for life during her travels to Italy, India and Indonesia. In this novel, "appetite" was transformed from a solely physical need to a desire for overall satisfaction with herself. The film version starring Julia Roberts received only mediocre reviews, mainly due to its inability to hold attention and transfer description of both food and travel as well as the novel did.
Chocolat, by Joanne Harris, is another that centers around cuisine, but this time the tale focuses on the indulging power of food – specifically chocolate. Chocolat tells the tale of a Vianne Rocher, a young single mother with a talent for creating sweets that seem to magically improve the lives of her consumers. Vianne is pitted against the local priest, who encourages fasting and self-denial over satiation. The novel won the Creative Freedom Award in 2000, as well as both the Whittaker Gold and Platinum Awards in 2001 and 2002. The film, available to stream through Netflix or local Direct TV, is also popular and was well received, with Johnny Depp as the leading man.
Some other novels that opted for the food theory plot and turned out to be successful were: Julie and Julia, and Blood, Bones & Butter. The first is about a non-cook Julie Powell working her way through the famous Julia Child's Mastering the Art of French Cooking in a year's time. The second follows real life, famous New York chef Gabrielle Hamilton over the course of many years, as she discusses her journey from lowest corners of the kitchen to head chef of her own restaurant. Both are personal journey tales, but also delve further into the therapeutic nature of food, and its ability to force future chefs to pound out their issues (often literally, in cases involving dough and baking).
For foodie readers and writers, it's easy to understand the multiple layers of food that can be used symbolically and as plot devices in any and all literature. Which is why, when you're hungering for your next great novel, it may be worth your time to check out one that examines the deliciousness of life directly through food.