Wanda Brunstetter is an award-winning romance novelist, and many of her books have made the New York Times, USA Today, and other top bestselling lists.  She's made a niche for herself by writing heartwarming stories about the Amish culture.  In fact, Wanda has written more than 60 novels celebrating their way of life, has sold more than seven million books, and had her novels translated into four foreign languages.  One of the founders of the Amish fiction genre, her novels celebrate God, faith, and the world of the Amish.  Her newest novel, The Healing Quilt from The Half-Stitched Amish Quilting Club series will give readers a chance to learn about the Amish way of life and definitely leave them wanting more!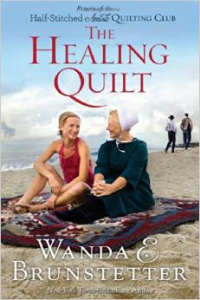 Book Blurb:
Join retired Amish newlyweds Emma and Lamar Miller in Florida for the winter as they lead another quilting class with a new group of unlikely students: Jennifer, a pregnant new mom; Mike, a charter boat owner; Erika, a wheelchair bound teen; Kim, a waitress; Noreen, a newly-retired widow, and BJ, an artist facing illness. When old friends visit from Indiana, will romance also become a subject of class discussions?
Click the book cover to listen to the podcast!
Connect with Wanda Brunstetter on Social Media:
https://www.facebook.com/WandaBrunstetterFans?ref=br_tf
https://twitter.com/WBrunstetter
Great Amish Fiction!