Margaret Weis and co-author Robert Krammes bring the enthralling Dragon Brigade trilogy to a thrilling conclusion in The Seventh Sigil, a sweeping novel of worldwide war and personal redemption. Five hundred years ago, a clan of rebels was banished to the bottom of the enchanted world of Aeronne; ever since, these Bottom Dwellers have sought revenge, and now they are waging all-out war on the rest of humanity. Only the Dragon Brigade can prevent an endless dark age. Their epic battle will test the mettle of those thrown into the breach, and determine the fate of this magical world. Find out more at http://us.macmillan.com/books/9780765333506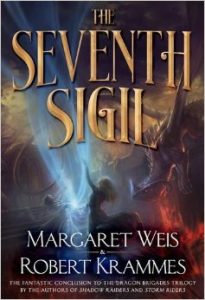 About the Authors:
Margaret Weis was born and raised in Independence, Missouri. She attended the University of Missouri, Columbia, graduating in 1970 with a BA degree in Literature and Creative Writing. In 1983, she moved to Lake Geneva, Wisconsin, to take a job as book editor at TSR, Inc., producers of the DUNGEONS & DRAGONS role-playing game.
At TSR, Weis became part of the DRAGONLANCE design team. Created by Tracy Hickman, the Dragonlance world has continued to intrigue fans of both the novel and the game for generations. 2004 was the twentieth anniversary of the DRAGONLANCE CHRONICLES, which has sold over twenty million copies world wide. Weis is also the author/co-author of several other New York Times best-selling series, including DARKSWORD, ROSE OF THE PROHET, STAR OF THE GUARDIANS, THE DEATHGATE CYCLE, SOVEREIGN STONE, and her current series with Tor Books, DRAGONVAARLD. Weis also continues to write with co-author Tracy Hickman for the Dragonlance novel line.
Weis is owner of Margaret Weis Productions, Ltd., publisher of the Ask the Angels advice board, the Serenity Role Playing Game, based on the movie by Josh Whedon, licensed from Universal Studios, and the Battlestar Galactica RPG, also licensed from Universal, the Paths of Doom adventure books for young readers, and a host of other fun and exciting game products.
Weis lives in Wisconsin with three border collies. She and her dog, Dixie, have fun competin
Robert Krammes is a game designer and the general manager at Aztec Video Productions. He is the author of the Dragon Brigade Series along with Margaret Weis. He lives in Cincinnati, Ohio.