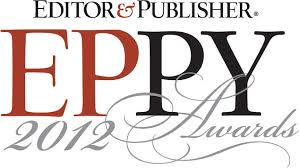 Editor & Publisher Magazine has announced the winners of their 19th EPPY Awards! 
Winners were selected from an international list of nominations to honor the best media-affiliated websites across 33 categories, in addition to categories for excellence in college and university journalism. Each category was separated into websites with more than 1 million monthly unique visitors, and those that receive less than 1 million. Winners must receive a score in the top one-third of the average score across all categories within their division. As a result, there may be no winner in categories not reaching this threshold.
We also thank the judges who took part in this year's EPPY Awards selections. Judges are all leaders spanning media categories, including website design, editorial, technology, education, marketing and advertisement and management.
To visit each winner's site, please click here.
http://www.youtube.com/watch?v=J-4j6ZiDUnk