We caught up with SciFi/Fantasy author Fred Shutts to discuss his novel Miya's Assault and his bigger picture of The Watch Chronicles series.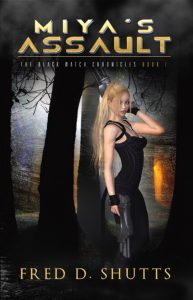 Reader's Entertainment:  Tell us the synopsis of your book.
Fred:  Miya's Assault, The Watch Chronicles Book I synopsis
Miya's Assault is about a female human/cat hybrid (A Neko for you anime fans) that was put into stasis in the third millennium during the last days of the first interstellar war. A plan was put into place to preserve humankind by putting the best and brightest into stasis. Thousands of Miya's people, and other military personnel were to join them. But they didn't wake up. And only Miya was known to have survived.
The book starts out with Miya leading an aerial bombardment mission aboard her flag ship the "Typhoon II" into enemy territory over the Niagara Sea in what was eastern Canada. She has a sparring match with one of her best friends, Major Ruin (Robert Choinard) over analyzing the footage from when they found her; yet again.
Then the book steps back ten years to the day the Black Watch found Miya. The Watch fights creatures known as "dragons" which are actually alien creatures left over from the war. And then there are giant mutant rodents to contend with, and nobody likes a 400 hundred pound rat with poisonous ballistic quills!
A squad of the Black Watch move into the facility as the European Empire attacks. They find Miya on accident, then with the help of her AI and friend "Abby" they fight their way out. The fighting continues all the way back to the ship, where Miya must confront an enemy combat walker on the deck; with no more than a Raptor twelve millimeter rifle, her strength, and her total lack of concern for personal safety!
Miya is then acquainted with her new friends further aboard the Typhoon as it flies over the Pacific Ocean towards Pearl Harbor. But before she can really take a breath, the Black Watch is thrown back into the breach. An unknown alien menace has shot down two ships near the Devils Lake Military Academy.
They must not only protect the base and the civilians that live there, but attempt a daring rescue mission for the two downed air crews. Miya must hold until reinforcements arrive; but like all her kind she can't just sit and wait. Miya leads a "seek and destroy" mission deep underground into the alien base.
A friend is snatched from Miya, leaving her reeling. Things however are not what they seem. Miya then helps to bury and honor the dead and finally gets to see her new home; the city-state of Sorovaste. There she is honored by Lord Gerald Taylor the sovereign of the venerable city-state.
In the end flashing forward ten years Miya is once again her flag ship the Typhoon II. After being thwarted by bad intelligence, she has a revelation that will change her forever and help to ignite a Military showdown. But that is best left to book two.
Reader's Entertainment:  What do you feel is the most unique aspect of your story?
Fred: I like to think my female characters aren't mindless drones. But then again I like to think all my characters have full rich histories and personalities regardless of sex.
Reader's Entertainment:  Tell us about your main character(s).
Fred:  Miya is a Neko Soldier, a bio-engineered species made for war. She's young but wise beyond her years. And although she is made for war that's not her life, she wants to grow flowers. She wants to use her hands for something beyond fighting.
Reader's Entertainment:  What Genre(s) is this and who do I think will want to read it?
Fred:  It's Science Fiction, and I think fans of Military science fiction, or space opera might like it. But I hope anyone that likes sci-fi will like it.
Reader's Entertainment:  Have you received any feedback on it yet, and if so, what was it?
Fred:  A bit and it's mostly been positive.
 Reader's Entertainment:  Tell us something about yourself that most of your readers may not know.
Fred:  Well since I'm rather new Ill just throw out a fact. I watch an anime called Fairy Tail (yes that's how it's spelled), and I choke up and sometimes I cry; almost every episode, silly I know.
Reader's Entertainment:  What's next for you?
Fred:  Well book two of course and an Audio Drama Based on the story.
Reader's Entertainment:  Where can people interact with you and find out more about you and your books?
Fred:  My Website is: www.sorrowearth.net, all of my social media is linked to it: Face Book, Twitter, Goodreads, Wattpad.
Thank  you for taking the time to join us!