Do you have a great novel seeking a home? Perhaps you have a manuscript that would be perfect for Harlequin's Blaze line. Now is the time to send those manuscripts to their editors. Basic details on their submissions policy follow. Later this week, Reader's Entertainment will feature guest posts from Harlequin editors giving you even more details.
Submission dates: Monday, March 2nd  – Monday, March 16th at 11:59 p.m. EST (2 weeks) 
Call to action: Do your smokin' hot heroes and strong, sympathetic heroines burn up the page on their way to their happily ever after? We're on the lookout for new authors—and you could be the next Blaze Babe! We publish 55,000-word super-sexy contemporary romance novels. Along with great sex scenes, we ask our authors to deliver complex plots and subplots, realistic, engaging characters and an unforgettable love story. Blaze novels are fun, flirty and always steamy!
Writing tips: Follow the #BlazeBlitz hashtag on Twitter for exclusive content, writings tips and more! 
What Harlequin Blaze wants:
A query letter that introduces your book and includes any previous publishing credits, writing contest wins, or affiliations.
A 4-6 page synopsis. We want to know what happens in your book, even the ending! No cliffhangers, please. Show us what drives your story forward, including the internal and external conflicts your hero and heroine face on the road to romance.
The first chapter of your manuscript (up to 20 pages).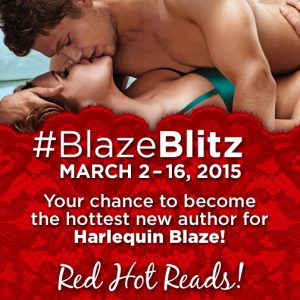 What you get:
A fast response! Skip the slush pile and hear back from Harlequin within 45 days after the submission period ends.
Editorial feedback for every sexy contemporary romance received.
The possibility of having your novel published in Harlequin's hottest romance line.
Blaze writing guidelines: https://harlequin.submittable.com/submit/28675
Where to submit: Visit https://harlequin.submittable.com/submit and click '#BlazeBlitz Submission Blitz!'
Questions? Message our editors on Twitter @KScheibling, @Dana_Reads, @LauraBarth2011, and @AdrienneApple