Steven James joins me Thursday, April 2nd at 6pm EST. He is a national bestselling novelist whose award-winning, pulse-pounding novels continue to gain wide critical acclaim and a growing fan base.
Suspense Magazine, who named James' book The Bishop their book of the year, says that he "sets the new standard in suspense writing." Publishers Weekly calls him a "master storyteller at the peak of his game." And RT Book Reviews promises, "the nail-biting suspense will rivet you." With a Master's Degree in Storytelling, James has taught writing and storytelling around the world and is one of the seven Master CraftFest instructors at ThrillerFest, North America's premier training event for suspense writers. Respected by some of the top crime writers in the world, James deftly weaves intense stories of psychological suspense with deep philosophical insights.  Steven's upcoming novel, Fury, is Book 2 in the Blur Trilogy, and available for Pre-Order on Amazon.com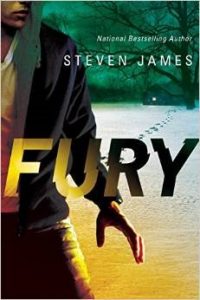 Book Blurb
The disturbing visions that helped Daniel Byers solve a deadly mystery have finally quieted, and the sixteen-year-old basketball star is looking forward to things settling back to normal. But when his father mysteriously disappears, Daniel realizes that the key to finding his dad rests in deciphering his chilling hallucinations.
Soon, long-buried secrets begin to surface, revealing clues that could help him locate his father. But as the past collides with the present and reality begins to blur around him, Daniel faces a race against time to save his dad before it's too late.
Click on the image above for details on Steven James' upcoming interview.