When you chat with Mina Khan, several things stand out. Her love of cooking, the joy that bubbles up when she talks about what's important to her, and writing. She's a great humanitarian and has donated proceeds from her books to help the UNICEF Project, and a local food shelter. She's as wonderful in person as she is in print. Her novel, A Christmas Wish (A Djinn World Novella), more on Mina, a special treat for readers: Some of the recipes Rayez made in the book, and more!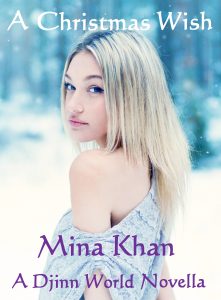 Book Blurb:
Rayez, a smoking hot chef and fire djinn in exile, lands himself in deep trouble (at the bottom of a beer bottle) when he tries to help a mysterious beautiful woman.
Selene is pursued and desperate. She'll do anything to keep her brother safe–including capture a djinn.
While deception brings them together, dangerous enemies make them unlikely allies. Can one gigantic wrong lead to two rights and true love?
Click on the book cover image to listen to the podcast from Mina's show!
Connect with Mina Khan on Social Media:
www.facebook.com/Mina.Khan.Author
http://minakhan.blogspot.com
Great Paranormal Fiction!