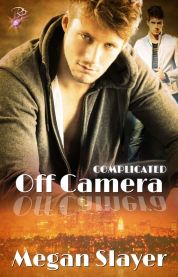 Off Camera, Book 2 in the Complicated series by Megan Slayer
Two film students learning about love on and off camera. Navigating college is hard, but not as hard as learning to love and trust.
Kade Evans knew what he wanted to do with his life—write scripts for Hollywood. He's poured his heart into his work and learning the tricks of the trade, but being only twenty-one he knows he needs experience. How's a guy supposed to get experience when he's shy and quiet? The answer might be closer and more forceful than he thinks.
Tony Victor's goal in life is to make movies. He won't quit until he's working on the next blockbuster. First, he's got to get through college and get the handsome guy from script writing class to notice him. Tony's never had trouble getting attention, but something about Kade calls to him. Tony's head says go slow, but his heart is ready to take things to the next level.
Will these two find common ground or will the simmering passion between them fall apart when their secrets are revealed?
Want to read more? Follow this link. This link is intended for readers 18+.
About the Author: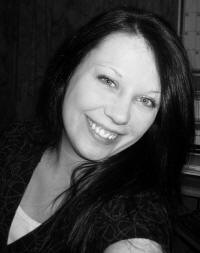 Welcome to my corner of the universe. I've always wanted to write. I love storytelling and weaving images with words. There's something magical about a happily-ever-after that draws me to a story. Be it spicy and suspense-filled or lusty hot and bothered, I'm game for a good book.I'm still learning and growing and I hope you'll join me. It's been a crazy ride, but it's totally worth it. You'll see.
I've always dreamt of writing the stories in my head. Tall, dark, and handsome heroes are my favorites, as long as he has an independent woman keeping him in line.  I love playing with words and letting the characters run wild.
NASCAR, Ohio farmland, dirt racing, animals and second chance romance  all feature prominently in my books.  I also write under the pen name of Megan Slayer. I'm published with Total-E-Bound, Changeling Press, Liquid Silver Books, Shara Azod Publishing, Turquoise Morning Press, Decadent Publishing and The Wild Rose Press. Come join me for this fantastic journey!  Visit Megan's online home here.
Available at:
Resplendence Publishing
AllRomance Ebooks
Amazon