What a blast I had tonight with Award-Winning, and bestselling author, Tiffany L. Warren.  Tiffany is definitely multi-faceted. In addition to being a wife, mother, and an author, she's also a playwright, and songwriter. In fact we share an intense love for Broadway musicals, plays, and of course, The Sound of Music! Tiffany Warren has penned over fifteen novels, including two young adult series (So For Real and The Fab Life) under pen name Nikki Carter. Tiffany enjoys writing novels that feature "high drama" but also weave in her passion for great storytelling, faith, and love. Her latest novel, The Favorite Son, centers on brothers Camden and Blaine Drake. You'll definitely want to check it out!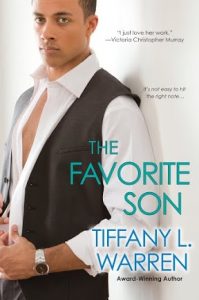 Book Blurb:
Do family, faith–and fame–go together? In this captivating novel from award-winning author Tiffany L. Warren, two brothers reach for the stars, but are they prepared for a fall?. . .
They're handsome, smart, and musically gifted. Brothers Camden and Blaine Drake have put their talents together and founded a gospel group. The quieter one, Camden is the songwriter, while charismatic Blaine is the performer. At first, their Bishop father is against the idea–until Blaine, his favorite, wows the congregation with his performance at a church revival. Sure enough, once the bishop witnesses their effect on the crowd he wants them there every Sunday. But he may have set the stage for trouble. . .As the group's popularity grows, so do the groupies–and promiscuous Blaine is more than happy to share his love. Gigs across the country, meetings with music execs, a chance to sign with a major label, and a sexy new band member bring new connections–and dangerous new temptations. Soon, a slew of rumors and a shocking betrayal threaten to destroy the group–and the brothers' relationship. But one event is going to rock their world forever. Do they have enough faith, forgiveness, and brotherly love left to find harmony once more?…
Click on the book cover image above to listen to the podcast!
Connect with Tiffany L. Warren on Social Media:
www.tiffanylwarren.com
https://www.facebook.com/tiffanylwarren
Great Christian Fiction!