From the wine tasting novice to the oenophile, groups of friends take pleasure in pairing bold and hearty wine and cheese flavors. Even after corks have been popped and the cheese knives begin to break up the wonderful savory cheeses that pair best, the overwhelming strength of a good wine could require more than an aged cheese to satisfy the bellies of your party guests – especially if the tasting coincides with the dinner hour. Solution? Find the perfect dishes to compliment your amazing event that satiates and compliments your tasting event!
Bruschetta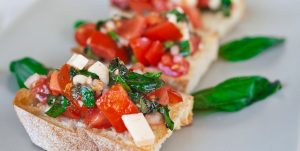 One solution could be to pair your tasting with a wonderful bread dish that serves the dual purpose of absorbing the alcohol, and also providing a delicious detour during your wine and cheese tasting. Use fresh tomatoes (chopped in small meaty chunks), fresh garlic, crushed dried oregano, a bit of dried basil, a dash of salt and pepper, garlic salt, olive oil and a bit of red wine vinegar. Luckily it's super easy to make. Coat a Klosterman Baking Company crusty bread of your choice with the olive oil, and mix the rest of the combined ingredients to spoon plentiful portions atop, and you have a 10 minute compliment to your tasting event.

Summer Orzo Pasta Salad

A wonderful summer salad is always a crowd pleaser and perfect for any outdoor wine event. The wonderful rice-looking orzo cooked in a hearty chicken or vegetable broth is the perfect complement to chopped cucumbers, tomatoes, chickpeas, and a generous crumble of feta. Mixed together in a homemade dressing of olive oil, vinegar, lemon juice, honey, salt, and pepper, this salad will be the perfect flavor interruption at a tasting party.

Zesty Bacon Wrapped Shrimp

To complete the trio of delectable flavor-filled detours, try decadent bacon wrapped shrimp. Pairing meat with cheeses during a tasting is nothing new, but these bacon wrapped shrimps will disappear from your table almost as soon as you bring them out. Wrap a half slice of bacon over a beautifully plump shrimp, and sprinkle barbecue seasoning on each piece. Secure the pieces with a toothpick and proceed to bake the creation on some heavy duty foil paper in an oven pan for 15 minutes at 450 degrees. The result will be amazing!
With these three dishes, you are sure to fill the bellies of your guests as you compliment the oral stimulation of a wine and cheese pairing. Bon apetit!