It was such a pleasure sitting down this evening to chat with New York Times and USA Today bestselling author, Lisa Renee Jones on everything from Chipmunks in the ghost town, St. Elmo in Colorado to auction storage unit hunting with her DH, Diego. We did get to chat about some of Lisa's many accomplishments, too. Like her wildly popular Inside Out series. A few of her successful titles include: The TALL, DARK AND DEADLY series and THE SECRET LIFE OF AMY BENSEN series, both spent several months on a combination of the New York Times and USA Today bestselling lists.  Prior to publishing, she owned a multi-state staffing agency that was recognized many times by The Austin Business Journal and also praised by the Dallas Women's Magazine. In 1998 my guest was listed as the #7 growing woman-owned business in Entrepreneur Magazine. Her latest novel, Denial, which is book one in the Careless Whispers series releases this month. A new standalone spin-off of the Inside Out series that follows Ella Ferguson, Sara McMillan's best friend.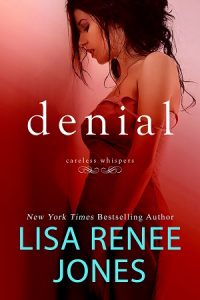 Book Blurb:
Ella Ferguson awakes alone in Italy, unsure of who she is, and a gorgeous man has claimed her as his own. He's tall, dark, and sexy, with money and power, the kind of man who makes a girl want to be possessed. And he does possess her, whispering wicked wonderful promises to her, stealing her trust and her heart. Soon though, the past finds her, yanking her from a cocoon of passion and safety. Everything is not how it seems. The truth will shatter her world, but it can set her free, if it doesn't destroy her first.
Click on the book cover image above for details on Lisa Renee Jones' upcoming interview!