Don't miss our show this Thursday, November 12th at 6pm EST. My guest will be #1 National Bestselling Author and NAACP Image Award-Winning Author, ReShonda Tate Billingsley. A former news reporter and anchor, who now writes books full-time, ReShonda has penned over 35 books. Her sophomore novel, Let the Church Say Amen, has been made into a movie, directed by actress Regina King and produced by Queen Latifah's Flava Unit, Royal Ties Productions and Bobcat Films. We'll discuss her latest novel, Mama's Boy. When her son is in trouble, a heartbroken mother finds the courage and faith to save him, in this powerful family drama—a novel as timely as today's headlines.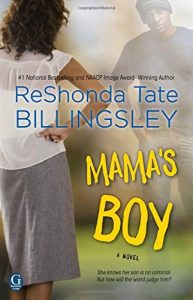 Book Blurb:
The breaking TV news rocks Jasper, Texas, to the core: a white police officer is fatally shot in a scuffle with three black youths—and a cellphone video captures Jamal Jones, the sixteen-year-old son of esteemed Reverend Elton Jones, escalating the tragic encounter. Now, as the national spotlight shines on a town already rife with racial tension, Jamal is a murder suspect on the run. And all of Jasper—even the Reverend's congregation—rushes to judge the boy they thought they knew.
But Gloria Jones knows her son best, and she races to find Jamal before the law does—to the outrage of her workaholic husband. Once she finds him, she has to decide whether to turn him in or help him run. With ruthless prosecutor and Houston mayoral candidate Kay Christensen hungering to put another young thug behind bars, Gloria will face her biggest battle yet. And when long-hidden secrets and shocking lies come to light, throwing Jamal's case and his destiny into a tailspin, all Gloria can do is pray that the truth—and a mother's unconditional love—will be enough to redeem the mistakes of the past and ultimately, save her son.
Click on the book cover image above for details on ReShonda's upcoming show.