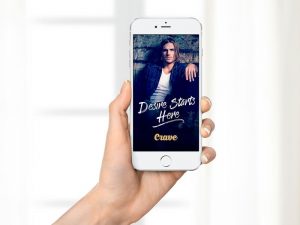 A new app created by Paragraph and Atria Books, an imprint of Simon & Schuster called CRAVE will give romance readers a new way to satisfy their book craves.
More from the press release:
Crave (ThisIsCrave.com) – a new app that matches bestselling authors with the hottest actors to offer romance fans an entirely new reading experience. Crave will be available for download on iOS at launch with Android to follow shortly after.
The first books to launch on Crave are Atria's November 9, from #1 New York Times bestselling author Colleen Hoover, followed by books from #1New York Times bestselling author Abbi Glines,  and USA Todaybestselling author K.A. Tucker.
Subscribers will receive one installment from the book each day, and every new segment of the story is coupled with instant notifications, videos and photos from the lead character.  Books are released serially, typically in advance of their official publication date, creating a new reading paradigm where the only place to experience the enhanced story will be in the app.
"The way we consume information has changed dramatically in the past few years," said Ziv Navoth, Paragraph's CEO. "We took the romance novel and asked ourselves how can we create an experience that fits the way people like to experience stories these days. The result is Crave."
The Crave Studio scours the world and polls fans to discover actors who resemble the actual book characters so much that they might have well been the inspiration for them. Crave then turns them into real-life stand-ins for their characters, turning the audience's fantasy into reality.
"Today's romance reader isn't satisfied with simply reading a story," said Colleen Hoover. "She wants to be immersed in it. She wants to get closer to the characters and she wants to have a relationship with them and with author that created them."
"This is an exciting endeavor for us.  Truly the way readers consume, share and talk about books has changed greatly, and with Crave we are able to marry new methods of delivery with high-quality, value-added content to engage readers in an entirely new type of experience," says Judith Curr, President and Publisher, Atria Publishing Group.
Crave is a subscription-based service. Fans subscribe to an author's channel for less than a dollar a week ($3.99/month) and receive daily installments from their newest books over a period of 90 days. Crave is available starting today through the Apple App Store, and will be available soon on Android. Crave requires an iPhone 5s, 6 or 6+ running iOS 8 or later or an Android phone running OS 4.0.3 or later.
Atria Books
Atria Books is an imprint of Simon & Schuster, a part of CBS Corporation. Simon & Schuster is a global leader in the field of general interest publishing, dedicated to providing the best in fiction and nonfiction for consumers of all ages, across all printed, electronic, and audio formats. Its divisions include Simon & Schuster Adult Publishing, Simon & Schuster Children's Publishing, Simon & Schuster Audio, Simon & Schuster Digital, and international companies in Australia, Canada, India, and the United Kingdom. For more information about Atria, visit our website athttp://imprints.simonandschuster.biz/atria.
Paragraph
Paragraph builds products and services that re-imagine the way people discover, tell and experience great stories. For more information on Paragraph, visit http://www.paragraph.com.