It is sometimes hard to buy gifts for bookworms. Although they love to read, they may not have room for more books, or you don't know what kinds they would like, or already have. So this year, instead of buying actual books, consider these alternative and fascinating gifts.
Book Print Cover Wall Art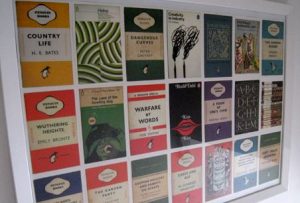 Your favorite classic can be part of your home décor with neat book print cover wall art pieces. This site features unique book print wall art with pieces printed on a vintage encyclopedia page. There are more than 600 different prints to choose from. You are sure to find the perfect book print at this site.
Literary Candles
These candles feature scents from Jane Eyre's ambrosial rose garden, Alice in Wonderland's tea party, and Sherlock Holmes' study. Named for the locations in literary classics, these custom blended candles evoke the book's most memorable moments.
Personal Library Kit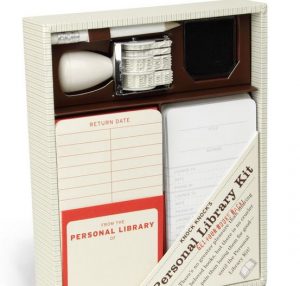 For that book lover who likes to share their books, the Personal Library Kit is the perfect gift. This kit makes it easy to share must-read titles with friends and is filled with all of the tools needed to keep track of their own books they lend out. Ink, checkout cards, and a stamp help keep tabs on your valuable paperbacks. Just place a pocket and card on the inside of your book, and friends and book club members will know whose book it is. Check out the library kit here.
Custom Made Personalized Checkbook Covers and Customized Checks
A cute customized checkbook cover with personalized checks is perfect for any bookworm. Stylish covers can be handmade with an embroidered fabric or leather and these can be personalized with a ribbon in a color of your choice. The choice of fonts, thread colors, and fabric all make the checkbook covers the perfect gift. You can complete this gift with customized checks. Checks can be personalized in a number of different ways with famous illustrations or lines from the classics.
Kindle Voyage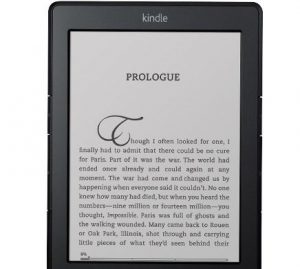 The Kindle Voyage makes a special gift for anyone who loves to read. This e-Reader was developed specifically for avid readers and looks just like a printed page because of the high-resolution display. PagePress is a unique feature of the Kindle Voyage that allows you to easily turn the page. You do not even have to lift a finger to do so. This Kindle is easy to read even in bright light, is lightweight and features batteries that last for weeks. In addition, the Kindle library features over one million titles available for download and is sure to please anyone.
Reading Journal
This convenient reading journal lets avid readers keep track of book titles, dates, authors, and genres. It features spaces to rate books from zero to five stars, make notes about what you read, your favorite authors, reading trees, favorite quotes page, and other information. This Reading Journal also has interesting quotes from famous authors throughout the pages.
Ecomfort Bed Rest Reading Pillow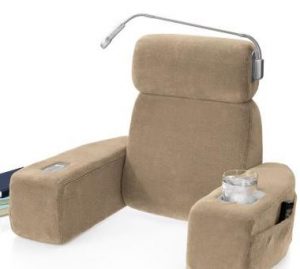 For the person who loves to read in bed, this deluxe reading pillow is perfect. In addition to reading, this versatile pillow can be used for studying or surfing the internet on your tablet. It fits any bed and supports any size and shape. This reading pillow has built-in armrests, an over-the-shoulder LED book lamp, and a hidden space to store an e-reader or a tablet. Huge pockets on either side can hold notebooks, pens, remotes, or other small items. The comfortable back and arms fold flat, and there is a built-in handle for easy storage and carrying.
These gifts are so clever that you may end up keeping them for yourself! All these interesting gifts will delight any book lover in your life and keep them guessing what you get them next year.