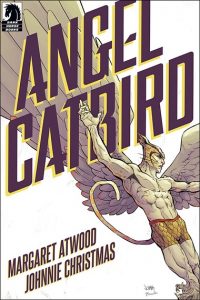 Bestselling and multi-award winning author Margaret Atwood has penned a graphic novel featuring a 'part bird, part cat' character called Angel Catbird. The book will be the first in a trilogy and proceeds from the sale will go to Nature Canada – part of the Keep Cats Safe and Save Bird Lives .
Dark Horse Comics will publish the series with Johnnie Christmas illustrating. "I have concocted a superhero who is part cat, part bird. Due to some spilled genetic Super-Splicer, our hero got tangled up with both a cat and an owl; hence his fur and feathers, and his identity problems," said Atwood. Christmas said it was "tremendously exciting to work with one of the great contemporary novelists", adding that the world of Angel Catbird had "warmth, heart, humour, and lots of action".
"[It's] A bold and unforgettable new character, paying homage to both classic pulp heroes and traditional comic book origin stories, " said Mike Richardson, Dark Horse Comics publisher.
Margaret Atwood is the author of more than forty volumes of poetry, children's literature, fiction, and non-fiction, but is best known for her novels, which include The Edible Woman (1969), The Handmaid's Tale (1985), The Robber Bride (1994), Alias Grace (1996), and The Blind Assassin, which won the prestigious Booker Prize in 2000. Her latest work is a book of short stories called Stone Mattress: Nine Tales (2014). Her newest novel, MaddAddam (2013),is the final volume in a three-book series that began with the Man-Booker prize-nominated Oryx and Crake (2003) and continued with The Year of the Flood (2009). The Tent (mini-fictions) and Moral Disorder (short fiction) both appeared in 2006. Her most recent volume of poetry, The Door, was published in 2007. In Other Worlds: SF and the Human Imagination, a collection of non-fiction essays appeared in 2011. Her non-fiction book, Payback: Debt and the Shadow Side of Wealth was adapted for the screen in 2012. Ms. Atwood's work has been published in more than forty languages, including Farsi, Japanese, Turkish, Finnish, Korean, Icelandic and Estonian.