Don't miss author, Pat Tucker this Thursday, February 25th at 6pm EST! By day, Pat Tucker works as a radio news director in Houston, Texas. By night, she is a talented writer with a knack for telling page-turning stories. She is the author of Somebody Has to Pay, The Cocktail Club, Sideline Scandals, Party Girl, Daddy's Maybe, Football Widows (soon to be a movie), Daddy by Default, and Lachez (an original e-short). She is the coauthor with Earl Sewell of Loyalty Among Friends and A Social Affair and has participated in three anthologies, including New York Times bestselling author Zane's Caramel Flava. She joins me to discuss her latest novel, Somebody Has to Pay: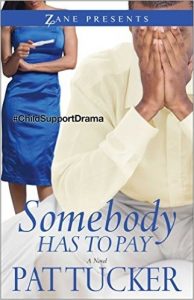 Book Blurb:
From the author of Football Widows and Daddy's Maybe, a woman must face the consequences when she tells an unforgivable lie on national television.
After a very embarrassing appearance on the wildly popular syndicated show DNA Revealed, Dani Dawson is reevaluating her life. When she decided to identify Keeling as her daughter's father, she didn't think things would go as far as they did. Now she's faced with mounting problems—and devastating consequences.
Keeling Lake's life was flipped upside down for years after he was targeted by Dani in her carefully plotted paternity fraud. But now he's out of jail, and he's out to exact some revenge of his own. With his meddling mom at his side, Keeling may be headed for more problems than he bargained for.
As the schemes pile up and tensions rise, Dani and Keeling have a lot to learn about forgiveness and truth…before it's too late.
Click on the book cover above for details on Pat Tucker's upcoming interview!