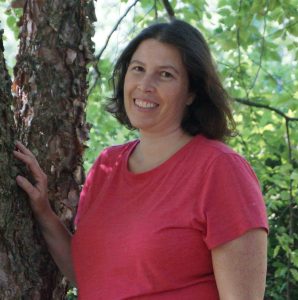 This week, Reader's Entertainment welcomes author Kristine Raymond. Thanks for joining us Kristine. Tell us a bit about yourself. Where you're from, where you live? Do you have one of those day-jobs?
I'm originally from Rhode Island, moved to Arizona in 1991 where I met my husband, and now reside in south-central Kentucky. 
How long have you been writing?
I began writing on Labor Day weekend 2013.  I published my first book, Here to Stay, on November 6 that same year.  To date, I have published five more books in the Hidden Springs series, the first novella in the Celebration series, and an anecdotal non-fiction book called 'write words' A Year in the Life of an Indie Author.
Briefly describe your writing day.
My writing day happens any time the words need to leave my head.  Most often, when I can't get to my computer.  I've been known to scribble a scene on a Kleenex.  The freedom to write where I want and when I want is one of the things I love about being an author.
Tell us about your latest release?
My latest release is Dancing in the Dark, book six in the Hidden Springs series.  It tells the story of Rusty Flanagan, a man who has worked as a ranch hand for most of his life and is finally ready to settle down on his own piece of property.  What he doesn't count on is meeting Charlotte Drake, a woman with dreams of her own, who finds herself working in a brothel instead of as a dancer, as she was promised she would be when she left home.  The two of them have a lot to work out in order to be together, and they each make a huge sacrifice which might ruin their chance.
Are your characters entirely fictitious or have you borrowed from real world people you know?
The characters are fictitious in the strictest sense but some names and personalities were derived from people in my life.
Where did you get the idea from?
I never know how to answer this question.  I don't really know where my ideas come from.  Sometimes I have a dream and wake up thinking, "That would make a great story."  Or I see something or hear a name or a song and an idea comes to me.  I've always loved the Old West and wanted to write a book with that setting.  And the series was born.
Would you share one detail from your current release with readers that they might not find in the book?
I never intended for Rusty's hair to grow darker like it's described in the story but my original cover model, who had bright red hair, dropped out of the shoot.  His replacement's hair is more auburn, so I wrote that into the story.
Who has been the most difficult character for you to write? (Any of your books)
None of them.  My characters come pretty easy to me.  It's the rest of the story that presents a challenge.
If you could be one of your characters for a day which character would it be? Why?
Mmmm… that's too tough of a choice.  I love all of my characters, even the bad ones.  Lol.
What are you working on now?
Worth the Gamble, book seven in the Hidden Springs series.
We all know how important it is for writers to read. Are there any particular authors that have influenced how you write and, if so, how have they influenced you?
Every author I read influences me in some way.  I've learned techniques I want to use and those I don't.  I try to write stories that I would like reading.
If you could have dinner with any writer living or dead, who would it be and why?
Either James Herriot or Laura Ingalls Wilder.  I grew up on their books and I'd love to hear more about their lives.
Do you have a secret talent readers would be surprised by?
Nope, not a one!
Your favorite go-to drink or food when the world goes crazy!
The world doesn't have to go crazy for me to eat mushroom pizza.  I swear, I could live on that stuff!
What is the one question you never get asked at interviews, but wish you did? Ask and answer it.
What would you like Santa to bring you for Christmas?  Books!!!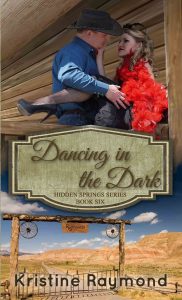 Dancing In The Dark
Rusty Flanagan has always wanted a piece of land to call his own.
After years as the foreman on Ryan's Ranch, he's ready to work for himself.  When the perfect property becomes available near Hidden Springs, he discovers to his dismay that he isn't the only party interested.  He has no idea of the challenge he is about to face.
Sponsored by a wealthy matron, Charlotte Drake moved out West with hopes of becoming a dancer. What she never imagined was ending up as a dance hall girl, having to work off her debt on her back.  Unwilling to resign to her fate, she meets the one man who could change her life.
While Charlotte struggles to find a way out, and Rusty fights against a greedy land baron, the last thing they expect to discover is love.  As they grow closer, each makes a sacrifice that could destroy their chance of happiness.
Can they make their dreams come true or will they stay dancing in the dark?
You can purchase Dancing in The Dark at:
Amazon
B&N
Google Play
Kobo
Are
24Symbols
Tolino
Inktera
Paperbacks
About the Author:
Kristine Raymond didn't figure out what she wanted to be when she grew up until later in life.  If you haven't guessed, it's being an author.  She's spent the past two years writing, and learning how to navigate the publishing and promotional side of the business.  Six books have been released in the Hidden Springs series and she is working on the seventh.  When she is not writing, she enjoys spending time with her husband and furry family.
She is the author of Here to Stay, Hearts on Fire, Abby's Heart, A Chance on Love, A Will of Her Own, Dancing in the Dark, and a contemporary novella called By Dawn's Early Light, and a non-fiction book titled 'write words' –  A Year in the Life of an Indie Author.
You can follow her on Facebook, Twitter, and Google+.  You can also visit her website to keep up with her latest news.