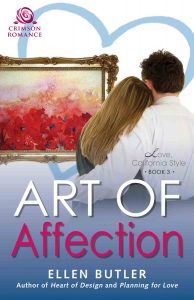 This week we welcome author Ellen Butler to Reader's Entertainment. Ellen's latest novel is Art of Affection, Book 3 in the Love, California Style series. Here's a little blurb:
Holly Hartland has spent the last year in Los Angeles finalizing her divorce from an abusive husband and getting her career as an art gallery curator back on track while trying to raise her young daughter. She shares a nanny with LAPD detective Gary Sumner, whose wife ran off to France with another man, abandoning him and his daughter.
With full-time careers to juggle, Gary and Holly end up relying on each other to help keep watch over their girls, who've become fast friends. The platonic co-parenting roles they've adopted are perfect for two people who've sworn off romance, but the burgeoning sexual chemistry they share proves hard to ignore.
When a Christmas wish puts the children in danger, Holly and Gary are forced to set aside their trust issues and work as a real team to keep their families safe. But can they overcome their baggage enough to open up their hearts to love?
Welcome Ellen, tell us a bit about yourself. Where you're from, where you live? Do you have one of those day-jobs?  
Hi Jocie, thanks for having me. I love reaching new readers.
I live in the Virginia suburbs of Washington, DC and I've been here over thirty years. In addition to being a novelist, I'm also a free-lance writer.
How long have you been writing?
I've been writing all my life, however novel writing has been a more recent role for me. My first book was published at the end of 2013; prior to that, most of my publications were for trade newsletters, magazines, and marketing materials.
Tell us about your latest release?
My latest release is the third book in my Love, California Style trilogy, Art of Affection. It is a romantic suspense about an Art Curator and an LAPD detective. They are two single parents sharing a nanny and the responsibilities of raising their children. Both have been burned by their former marriages and aren't looking for romance, but their chemistry kind of explodes. Then their little girls are put in danger and they've got to put aside their disagreements and work together.
Even though it is part of a trilogy, the story stands on its own however, readers may enjoy reading the trilogy in order so they are more familiar with the side characters playing roles in the plotline.
Are your characters entirely fictitious or have you borrowed from real world people you know?
My characters are fictitious however, I will admit, for every novel I've ever written I conduct interviews, so there is always a little piece of my interviewee somewhere in the character. It could be as simple as a physical characteristic, or a turn of phrase that they used. And, I believe that every character we write has a piece of ourselves, either one of our own characteristics or an attribute from someone in our lives.
Where did you get the idea from?
My ideas often come to me in dreams, sometimes watching a movie or television program, or reading another book. For Art of Affection the storyline simply built upon the introduction of the character in the first novel, Heart of Design.
Would you share one detail from your current release with readers that they might not find in the book?
I interviewed a Fairfax County Supervising Detective in order to build the hero, Gary Sumner.
Who has been the most difficult character for you to write?
I would probably say that Holly Hartland, from Art of Affection was the most difficult character for me to write because she's the victim of an abusive husband. I enjoyed making her strong enough to leave the bad situation, but I put a whole lot of obstacles in front of her along the way.
If you could be one of your characters for a day which character would it be? Why?
My favorite character would be Poppy Reagan from, Planning for Love. She's funny, smart, a loyal friend and a hard-working entrepreneur. Her book was the most fun to write, and throughout the series Poppy got the best lines.
What are you working on now?
Right now, I'm working on a WWII spy novel about a female OSS agent working behind enemy lines whose cover is blown, and using her wits she must try to escape Nazi Germany. I'm a little over two-thirds finished. It's been an exciting and difficult project for me because it's the first historical novel I've tackled, and it's not a romance novel, although there is a love story, it falls more along the lines of a thriller suspense novel.
We all know how important it is for writers to read. Are there any particular authors that have influenced how you write and, if so, how have they influenced you?
I'm a huge fan of Janet Evanovich. Her Stephanie Plum novels crack me up and her writing humor inspired the romantic comedy feel of Planning for Love.
If you could have dinner with a writer living or dead, who would it be and why?
I would pick someone alive. The dead ones would be moldy and smell.
Do you have a secret talent readers would be surprised by?
I can do a mean tap dance.
Your favorite go to drink or food when the world goes crazy!
Pizza and glass of Chianti … and some dessert would be good too.
Thanks for joining us today, Ellen.
You can purchase Ellen's latest title at:
Excerpt of Art of Affection, Book 3 in the Love, California Style:
We were sculpting Play-Doh with the girls in the kitchen when the doorbell rang.
"I'll get that," I said, motioning for Sanvi to remain with the kids.
Expecting Gary, I didn't check out the window before opening the door. I knew the moment I laid eyes on her who stood on the other side of my screen. I'd never met Claire, but I'd seen a photo of her in Annie's room. Even though the brown hair had been dyed blond, the round face and striking blue eyes were unmistakable. I slipped out the door, closing it behind me.
"What are you doing here?" I spotted a black Porsche Boxster down the street and could barely make out a blond head sitting behind the wheel.
"I saw you pulling out of Gary's driveway and recognized you. Your sister was the one who got shot last year. Right?"
"You can't be here."
"Is she in there?"
"Claire, you can't be here."
"Are you and Gary sleeping together?"
"You need to leave. Now." I kept glancing between her and the Porsche. Luckily, the driver remained in the car. If he made a move, I'd be on the phone faster than a jackrabbit on speed, and I'd tell Alan to send in the SWAT team.
"I didn't mean any offense. You seem like a nice person. I just want to see my daughter."
"I'm sorry, you can't."
"You're a mother, right? Mom-to-mom, you understand. Can't I just see her for a moment?" Her eyes shone with unshed tears and her lip trembled.
"Claire, you know the rules. You signed the paperwork."
"It doesn't count. I was off my meds."
"I'm sorry; it's not happening."
"I didn't know what I was doing." She wrung her hands and spoke in wheedling voice.
My eyes flared. "Did you know what you were doing when you left her in the middle of the night with a sixteen-year-old babysitter and a Dear John letter on the mantel?"
She winced as though I'd slapped her. "I just want to see her for a few minutes. It's Christmastime and I need to tell her that I'm okay. Oh, and that I love her." She said the last sentence as an afterthought.
"No."
"She'll want to hear about my travels, where I've been. Gary doesn't need to know," she leaned in and whispered.
This woman is unbelievable. "What then?" I crossed my arms. "You'll be on your merry way, off to the next adventure. How do you think that'll make Annie feel, with you bopping in and out of her life when it's convenient for you?"
"I'm her mother, damn it, and I want to see her." Her confidential wheedling changed in an instant, and she pounded her fist into her palm as she spoke. "I gave birth to her. It's my right as her mother."
"This is exactly why you don't have rights. You see, Claire, when we have children, we have to stop thinking about ourselves and put our children's needs above our own." My hushed tones didn't eradicate any of the ire or censure from my statement.
Her eyes flashed and her face turned crimson. She opened her mouth, but before she could utter a word, Gary's unmarked cruiser, with lights flashing, pulled into the driveway. Claire's face drained of color.
"Claire, what are you doing? You don't belong here," he said as he stepped out of the vehicle.
"Oh, darling, it's been so long. You look so handsome in that suit." She minced up to him in her four-inch heels and placed her perfectly manicured hands on his chest.
Ugh. What a faker!
"I thought we could sit down and talk. Maybe over a cup of coffee?" she cooed.
Behind Gary, a sunglass-wearing, blond behemoth unfolded himself from the Porsche, and I jerked forward, making a sound in the back of my throat that sounded like an injured cow. Claire must have seen it too; her posture stiffened and her black talons clutched Gary's lapels. Instantly, he spun around, detaching Claire as he went, pushed his jacket aside, and placed his hand on the weapon at his hip.
The blonde's long legs quickly ate up the pavement, and he stopped at the end of the driveway. His jeans conformed to his muscular thighs, and his tight, black polo barely allowed enough room for his thick neck. My stomach churned and I stood frozen in fear.
"Liebling, ve need to go. You said ten minutes. Stefan is vaiting for us." The Thor-like creature spoke with a European accent I couldn't pinpoint.
"Yes, darling. I'm almost finished. I just need a tiny moment. Why don't you be a sweetheart and pull the car up?"
He looked between the three of us, undecided.
"Gehen sie auf, die Liebe. Ich bin gleich da. Bitte," Go on, love. I'll be there soon,
Claire said in a cajoling voice. Thor shrugged his linebacker shoulders and returned to the sports car. I didn't relax, and Gary didn't take his eyes off him until the door closed
"Dare I ask?" He turned to Claire with a raised brow.
"Cristos."
"I'm to assume Viktor is out of the picture?" Gary pronounced it Veek-toor.
Claire shrugged. The Porsche rolled to a stop at the curb.
"Leave now and I won't arrest you, Claire." His eyes remained hard and emotionless.
She gasped. "You wouldn't dare."
"In a heartbeat. Get off Holly's property and don't return. There will be no coffee, no dinner, no lunch, no nothing. Go. Now."
With a huff, she strode across my lawn. Thor pushed the car door open from inside and she climbed in, slamming it behind her. The window silently slid down, and she left us with a clichéd parting shot before the car peeled out. "You'll be hearing from my lawyer."
About the Author: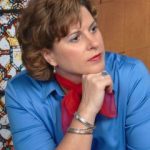 Ellen Butler in 140 characters or less: author, mother, wife, shoe lover, chocoholic, fashion fan, sarcastic wit, autumn enthusiast, dancer, book worm, and good-time devotee. You can learn more about Ellen online at:
Website: www.ellenbutler.net
Twitter: @EButlerBooks
Facebook: https://www.facebook.com/EllenButlerBooks
Goodreads: https://www.goodreads.com/EllenButlerBooks