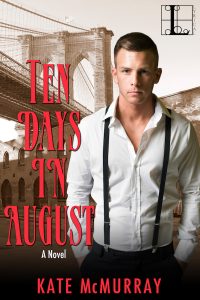 Ten Days in August by Kate McMurray
From the Lower East Side to uptown Manhattan, a curious detective searches for clues on the sidewalks of New York—and finds a secret world of forbidden love that's too hot to handle…
New York City, 1896. As the temperatures rise, so does the crime rate. At the peak of this sizzling heat wave, police inspector Hank Brandt is called to investigate the scandalous murder of a male prostitute. His colleagues think he should drop the case, but Hank's interest is piqued, especially when he meets the intriguing key witness: a beautiful female impersonator named Nicholas Sharp.
As a nightclub performer living on the fringes of society, Nicky is reluctant to place his trust in a cop—even one as handsome as Hank. With Police Commissioner Theodore Roosevelt cracking down on vice in the city, Nicky's afraid that getting involved could end his career. But when he realizes his life is in danger—and Hank is his strongest ally—the two men hit the streets together to solve the crime. From the tawdry tenements of the Lower East Side to the moneyed mansions of Fifth Avenue, Nicky and Hank are determined to uncover the truth. But when things start heating up between them, it's not just their lives on the line. It's their love…
EXCERPT:
As the sun set over the Hudson, Hank walked from the precinct house a few blocks west to the Bowery. He'd stripped to his shirtsleeves again before leaving the precinct, and he'd borrowed a tie and hat from another detective. He thought he looked fairly nondescript and hopefully unrecognizable as a police officer.
The heat was still unrelenting.
Hank knew a request had come down from headquarters to put a few extra men on patrol in this part of the neighborhood, and Hank understood the wisdom of doing so, though he was terrified of being recognized. Logically, he knew there was a reasonable explanation for his presence—he was tracking down a witness to the crime he was investigating—and as Inspector, he had some discretion over how he conducted his business. But tonight was not a night he wanted to be spotted, and he worried the increased presence would make him much more conspicuous. All it would take would be a friendly officer from his precinct saying hello too loudly, and Hank's cover would be blown.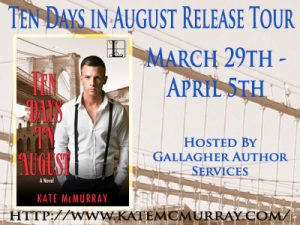 Not that it mattered, since the lack of a police presence was palpable. Not seeing any officers on patrol was alarming in its own way; if there was indeed a serial killer, there was not enough muscle here to act as a deterrent. Where were the extra men? Hank saw a few uniforms in his peripheral vision near the corner of the Bowery and East Third Street, but they were chatting with each other and not paying attention to their surroundings. Hank recognized one of the officers and made a mental note to write him up when he got back to the office in the morning.
In the meantime, he had more important concerns.
There was a man at the door at Club Bulgaria, but he didn't seem to be doing much beyond waving guests inside. He barely looked at Hank.
So Hank went in, following the other guests into the ballroom. Tables were scattered around the room with men seated at each, many of them quite young. There was no sign of Nicky.
Hank took a deep breath and thought about how to blend in. He acknowledged to himself that some of this subterfuge was a pretense, because he was tempted by this crowd. The air of it seemed to lure him in, the promise of sex and male companionship laid out before him like a fine dinner.
He slid into a chair at a table occupied only by a man who looked to be about twenty. The man had neatly-combed blond hair and rouge on his cheeks.
"Hello, sir," the man said. "I hope I can make your night a little more enjoyable."
"I hope so, too," said Hank.
The man smiled and leaned closer. He reached over and touched Hank's tie. So Hank put an arm around him and took a moment to feel the warmth of another man near him. It had been quite a while since he'd done this. There was too much scrutiny from Roosevelt now. He supposed if he managed to get himself arrested this night, he could argue he was there to investigate. A reasonable explanation. Even though the room smelled of sex and desire.
This would not be an easy investigation.
"Do you have a name?" Hank asked the man in his arms.
"My friends call me Charlie."
"All right, Charlie. What is the entertainment tonight?"
"Oh, would you like to see the show? I would, too. Paulina Clodhopper is singing. I just adore her."
"Paulina Clodhopper?" What a name!
"Oh, she's delightful. Have you never seen her before?"
"No, I can't say I have."
"She should be starting in a few minutes. Unless you want to go to the back?"
Charlie was handsome, but so very young. Not that it would have been the first time Hank had let himself be enticed into a back room or closet or compartment for a tryst with a handsome man, even one this young, but he had a greater agenda. More to the point, there was something unseemly about allowing himself to be propositioned while he was technically on the job.
And there was still no sign of Nicky. If he really did sing here, perhaps he came on after Paulina Clodhopper.
"Let's see the show," said Hank.
The lights on the stage came on suddenly. The tinkly notes of an old, out-of-tune piano wafted out into the audience. Hank was curious, though his sweat seemed to act as a glue wherever his body touched Charlie's, which was distracting. It was too hot for affection, even in a darkened ballroom with iced air being blown by mechanical fans.
Off stage, someone sang out the first few bars of "The Sidewalks of New York." Then a woman walked onto the stage in a stunning green dress, tight around her narrow waist with a large bustle in the back. There seemed to be jewels sewn into the fabric, or something shiny that caused the stage lights to reflect off of it. She had blond hair piled high on her head, big eyes, and rosy cheeks. She was beautiful, frankly, and had a seductive air about her. Every movement of her body was intended to pull in the audience. Everyone seemed to collectively lean toward her.
She gently crescendoed until her voice rang out over the audience. There was something husky and androgynous about her voice. Something sexy. Hank was captivated.
It took him a moment to realize Paulina Clodhopper was a female impersonator, as if the name hadn't been enough of a clue. Then he realized he recognized those big eyes.
Nicholas Sharp.
You can purchase Ten Days in August at:
Kensington: http://bit.ly/1ParSam
Amazon: http://amzn.to/1OGl1WF
B&N: http://bit.ly/1YWRDCq
ARe: http://bit.ly/1Va2r01
Google: http://bit.ly/1Rju0US
Kobo: http://bit.ly/1pJy1Wp
Apple iBooks: http://apple.co/252HUz0
About the Author: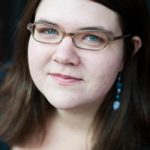 Kate McMurray is an award-winning author romance author and an unabashed romance fan. When she's not writing, she works as a nonfiction editor, dabbles in various crafts, and is maybe a tiny bit obsessed with base­ball. She is currently president of the New York City chapter of Romance Writers of America. She lives in Brooklyn, NY.
Be sure to visit Kate online at:
Website
Facebook
Twitter
Tumblr
Pinterest
Goodreads