This series features a new author I had never heard of until the RT Booklover convention book fair!
This week is – Susanna Kearley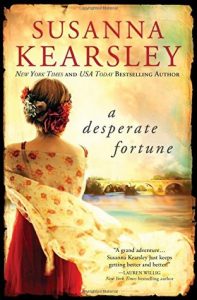 Genre/Series: Historical Fiction
Book to check out: A Desperate Fortune
Blurb:
For nearly three hundred years, the cryptic journal of Mary Dundas has kept its secrets. Now, amateur codebreaker Sara Thomas travels to Paris to crack the cipher.
Jacobite exile Mary Dundas is filled with longing-for freedom, for adventure, for the family she lost. When fate opens the door, Mary dares to set her foot on a path far more surprising and dangerous than she ever could have dreamed.
As Mary's gripping tale of rebellion and betrayal is revealed to her, Sara faces events in her own life that require letting go of everything she thought she knew-about herself, about loyalty, and especially about love. Though divided by centuries, these two women are united in a quest to discover the limits of trust and the unlikely coincidences of fate.