This series features a new author I had never heard of until the RT Booklover convention book fair!
This week is – Ethan Day
https://www.goodreads.com/author/show/2842849.Ethan_Day
Genre/Series: Gay romantic comedy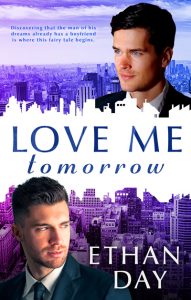 Book to check out: Love Me Tomorrow
Blurb:
Event planner Levi Goode is positioned to inherit the newly vacated throne, becoming the in-demand party planner for Wilde City's elite. Years of hard work and perseverance are finally paying off as Levi lands his next big fish, working with socialite Julia Freeman-Kingsley. Distracted by work and dealing with his head strong mother, an ex-Vegas-showgirl suffering from debilitating health issues, Levi has his hands full. Time for love or even the occasional one-night stand, is one aspect of life Levi hasn't been able to master.
Sparks of interest fly during a chance meeting with a paramedic called to the aid of his mother, and thanks to Ruby's meddling, Levi finds himself on a movie-date with the handsome Paramedic Jake. Personal and professional worlds collide when Levi realizes his new love interest is actually Jake Freeman, estranged brother to his brand new client. Discovering the man of his dreams already has a boyfriend, leaves Levi stunned realizing any hopes he had for something more with Jake were never going to be anything more than wishful thinking.
Struggling to downshift his expectations and remain friends with Jake while continuing to work closely with Julia quickly consumes all of his time and attention. Wondering if there will ever be a special someone to love him, is where Levi's love story begins.