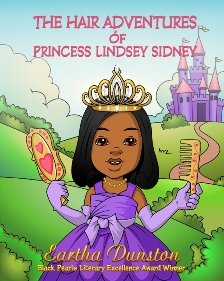 Meet Princess Lindsey Sidney, a precocious little girl with big, bushy hair! Join Lindsey Sidney for a week of "hair adventures" as she watches her hair transition from bushy, to straight and all styles in between. She celebrates her unique styles each day of the week.
The hair adventures of Princess Lindsey Sidney is the first in a series of children's books entitled the Princess series. Each book aims to serve as a dialogue for children, parents and educators to address such issues as positive self-image and dealing with the loss of a loved one. I hope you enjoy reading about Princess Lindsey Sidney in this book as she celebrates her beauty; and later, as she triumphs through difficulties in "Grandma is Dancing in Heaven."

Meet the Author 
Eartha Dunston has been writing since she was a freshman at Alabama State University. She first realized her love for writing when one of her best friends secretly entered her into his fraternity's poetry slam. She anxiously shared her writings publicly for the first time and received an overwhelming standing ovation! It was a pivotal moment, and she knew in that instant she would one day write professionally. Her educational background coupled with becoming a mom, inspired her to begin writing about issues that affect children such as positive self-image and loosing a beloved family matriarch. She has spent the past few years honing her craft under the tutelage of many award winning and accomplished authors.
She holds a Master's Degree in Social Work with a concentration in Clinical Studies from Virginia Commonwealth University. Eartha enjoys traveling, encouraging others through life's obstacles, reading and crafting stories in all genres. She currently resides in South Florida. Her first Children's novel is entitled "The Hair Adventures of Princess Lindsey Sidney." The book introduces us to a beautiful princess who celebrates her hair as it transitions textures and styles throughout the week.
REPRINTED WITH PERMISSION FROM BLACK PEARLS BLOG