Don't miss, author Debra Parmley, Thursday, August 25th at 6pm EST!  Debra enjoys spreading love, one story at a time. A hybrid author, Debra writes in many genres. Historical romance ranging from the western to the 1920's, contemporary romance with military heroes, romantic suspense, fairy tale romance and paranormal romance. Damsel in distress stories are some of her favorites and you will find this theme in many of her stories. Her westerns have been described as gritty. She joins me to give readers a sneak peak into her latest novel, Check Out.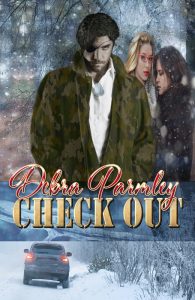 Book Blurb:
When Marine veteran Nash Ware walks into the library where shy librarian Betsy Bobbin works, she's intimidated by the handsome man who wears an eye patch and an attitude. Her car has a flat in a storm and Nash comes to her rescue. A fight outside a bar between an angry Nash and a drunk frightens Betsy. She's fallen for him but is it safe to fall in love with a wounded veteran with PTSD? Betsy is torn. Will love and trust win out over her fear before it's too late? Nash has found the girl of his dreams, but his wounds run deep. His ex-fiancé was repulsed by his eye and his eye patch, and manufactured drama like bees do honey. However, real drama surrounds Betsy, when a stalker comes after her sister.
Click on the image above for details on Debra Parmley's upcoming interview!