Tune in Tue. night Dec. 27th when host  Debra Parmley chats with romance author Vijaya Schartz about Angel of Lusignan book eight in the Curse of the Lost Isle. Listen in as they chat about medieval romances,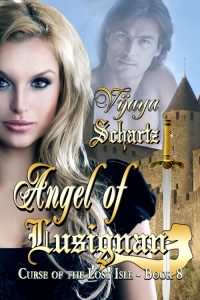 About Angel of Lusignan (Curse of the Lost Isle Book 8):
Young knight Raymond of Forez, blaming himself for his uncle's death in a hunting accident, falls off his horse at the very sight of the lovely Melusine. He has no knowledge of their turbulent past. Even less that she is an immortal Fae with angel blood… afflicted by a curse. He doesn't believe in the local legends… yet how can he resist such beauty and loving wisdom?
Melusine, who waited for him in Aquitaine, is full of remembered love. But can she trust this young knight with her mission, or her deadly secrets? In this explosive religious climate, the Church is suspicious of everyone, and the slightest rumor of witchery or Pagan magic could send them both burning at the stake. Can their love overcome the curse this time?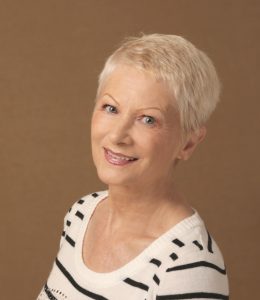 About Vijaya:
Born in France, award-winning author Vijaya Schartz never conformed to anything and could never refuse a challenge. She likes action and exotic settings, in life and on the page. She traveled the world and claims she must be a time traveler, since she writes with the same ease about the far past and the far future. With over twenty-five titles published, Vijaya Schartz writes action adventure laced with sensuality and suspense, in exotic, medieval, or futuristic settings. Her books collected many five star reviews and literary awards. She makes you believe you actually lived these extraordinary adventures among her characters. Her stories have been compared to Indiana Jones with sizzling romance, and she takes that as a compliment anytime. She writes to entertain.
For more about Vijaya visit vijayashcartz.com
Book Lights – shining a light on good books!