Tune in Tuesday April 11th when host Debra Parmley chats with Cecilia Velástegui about Lucia Zarate, Cecilia's latest book which is based on the fascinating real life story of the world's smallest woman!
Listen here Tue. April 11th at 8:30 p.m. eastern!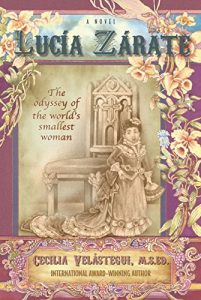 About Lucia Zarate:
Lucia Zárate is based on the poignant, real-life odyssey of the world's smallest woman. Pretty and gregarious, Lucia Zárate was just twenty inches tall. A celebrity after her 'display' at the 1876 Philadelphia Centennial International Exhibition, Lucia's extraordinary, heartbreaking story is one of exploitation by greedy sideshow hucksters and a fishbowl existence on the road, from New York to Victorian London. We follow the adventures of diminutive Lucia Zárate and her devoted governess as they grapple with life and death, finding joy and adventure in their bumpy sideshow journey of more than fourteen years. This is an artfully balanced novel that is a mesmerizing tale of survival, resilience, and the uplifting force of friendship.
About Cecilia:
Cecilia Velástegui was born high up in the Andes mountains in Quito, Ecuador, where she spent her childhood. Although she now lives at sea level in Dana Point, California, she still has two friendly alpacas, Tupac and Khipus. Cecilia was raised in California and France, and has traveled extensively in over 100 countries. Her favorite country is always the most recent country she visited.
She received her graduate degree from the University of Southern California, and speaks four languages. She was a marriage and family therapist, but now she is a devoted writer. Cecilia is on the board of directors of several cultural and educational institutions.
Cecilia is the award-winning author of psychological thrillers with historical intrigue. Missing in Machu Picchu received First Place at the International Latino Book Awards in 2013, Parisian Promises was a finalist in the 2015 Paris Book Awards in Paris, France, Traces of Bliss won the 2012 First Place in Popular Fiction by the International Latino Book Awards and was selected on the 2012 Las Comadres and Friends National Latino Book Club in association with the Association of American Publishers, and Gathering the Indigo Maidens was a finalist for the Mariposa Award.
Velástegui was the honored recipient of three awards in the 2015 Latino Books to Movies contest.  Her 2012 novel, Traces of Bliss, won first place in the coveted category of TV Drama Series.  Her 2013 cautionary tale, Missing in Machu Picchu, received second place in the Action and Adventure category.  Completing her trifecta of awards was her 2014 children's fable, Olinguito Speaks Up – Olinguito alza la voz, which received First Place in Animation category.
The Spanish edition of Traces of Bliss (Vestigios de Dicha) was a 2013 finalist for the Book of the Year by ForeWord Reviews. Her novel Gathering the Indigo Maidens is also available in Spanish. Cecilia is currently translating Missing in Machu Picchu to Spanish.
Cecilia's intensive research takes her to all corners of the world. Her 2017 novel Lucia Zarate tells the odyssey of the world's smallest woman. She is currently completing her 10 year research and manuscript on a historical, biblio novel Blessings from the Edge.
Cecilia is known as the Fabulous Fableist™ for her bilingual children's fables. Her fable about the newest mammal in the Western Hemisphere, Olinguito Speaks Up – Olinguito alza la voz (2013), won first place at the 2014 International Latino Book Awards. Lalo Loves to Help – A Lalo le encanta ayudar (2014), was a finalist in the Most Inspirational Children's Book Awards, and Howl of the Mission Owl (2015) was a finalist in Foreword Book of the Year.
She lives with her family in Dana Point, California.
For more about Cecilia visit ceciliavelastegui.com
and for more about Debra visit debraparmley.com
Book Lights – shining a light on good books!