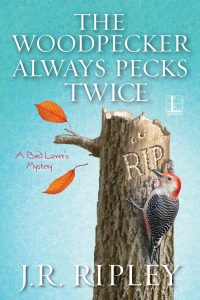 Traveling, Birds and Books by J.R. Ripley
As a traveler, I enjoy exploring new cities and their people, history and heritage as much as anyone. However, I am also a nature lover and bird watching enthusiast. That's why, when possible, I like to combine the two activities. For instance, I was in Florida earlier this year for the Space Coast Birding and Wildlife Festival, in Titusville. There are some terrific national and state parks in the area, such as the Merritt Island National Wildlife Refuge. The wide-ranging variety of habitats here – everything from coastal dunes to hardwood hammocks – provide homes for more than 1,500 species of animals and plants. I spotted my first painted bunting at a feeder set up outside the Refuge's visitor center! I also saw countless shorebirds and several types of woodpeckers, pileated, downy, flicker and red-bellied (just like the one outside Amy's window in The Woodpecker Always Pecks Twice).
On another recent trip, this time to Indianapolis for a mystery writing conference, after enjoying the city's sights, including the Indianapolis Motor Speedway, Monument Circle, and the Kurt Vonnegut House, I had the opportunity to visit Eagle Creek Park, one of the largest municipal parks in the country. While walking, I spotted an abundance of waterfowl, a bald eagle, red-bellied, pileated and Norther Flicker woodpeckers and a pair of loons – and, no, I'm not talking about that pair of tourists wearing matching shirts and shorts in fifty degree weather with cameras the size of Mt. Wilson's Hooker telescope. I wasn't sure if they were looking for planets or plovers!
Of course, you don't have to travel any further than your own backyard to enjoy the hobby of bird watching. I maintain several feeders and 8 (I think!) birdhouses. As I write this, I have a female bluebird sitting on her eggs in one box, baby chickadees fledging (Fledging is the fancy term for the time between birth and flight. Usually, this is quick, anywhere from 1-3 weeks. Then again, my daughter is 21 years old and still shows no signs of leaving home!) and chirping away in two others, a wren finishing up a nest in a purple martin house and a black racer snake (Yikes! How did it get in there?) coiled up in a bluebird house from which the babies have recently flown the coop (Whew!). And if you are thinking, geez, JR Ripley must keep 50 lbs of birdseed in his garage, you'd be wrong. It's 75 lbs and it is mostly black oil sunflower seeds!
THE WOODPECKER ALWAYS PECKS TWICE……….
A red-bellied woodpecker may lead to a yellow-bellied killer . . .
One morning when unwilling early bird Amy Simms grabs her binoculars for a closer look at the woodpecker who's been waking her up, she can't believe her eyes. Across Ruby Lake, through a curtain of rain, she sees a body being tossed out of an upstairs window at the old McKutcheon place.
Or at least she thinks she does. The police chief finds no body—only a discarded dressmaker's dummy—and complains that Amy sent him on a wild-goose chase. She should probably focus on minding her store, Birds & Bees, but Amy can't help snooping. And when she turns up another body—a murdered member of her birdwatching group—Amy once again needs to wing it as a sleuth to zoom in on a killer . . .
You can purchase THE WOODPECKER ALWAYS PECKS TWICE at:
http://www.kensingtonbooks.com/book.aspx/34820
About the Author: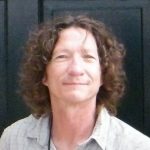 In addition to writing the Bird Lover's mystery series, J.R. Ripley is the critically acclaimed author of the Maggie Miller mysteries and the Kitty Karlyle mysteries (written as Marie Celine) among other works. J.R. is a member of the American Birding Association, the American Bird Conservancy, and is an Audubon Ambassador with the National Audubon Society. You may visit jrripley.net. for more information or visit JR on Facebook at facebook.com/jrripley.
Author Links:
Website:  http://jrripley.net/
Twitter: https://twitter.com/JRRipleyAuthor
Facebook: https://www.facebook.com/JR.Ripley