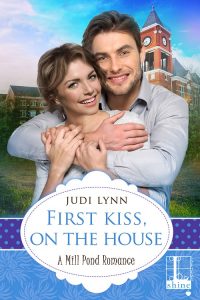 Her Misbehaving Plants by Judi Lynn
In my fifth Mill Pond romance, FIRST KISS, ON THE HOUSE, Miriam Reinhardt is a teacher, like I was once.  She teaches high school English; whereas, I taught first and second graders.  That means she has the summers off, like I did, and she loves to garden, like I do.  We're both Agatha Christie fans, too, who dream of having English gardens where blooms riot in color.  The difference?  Miriam HAS English gardens.  I have flower beds where perennials run rampant.  I'm a wimp when it comes to ripping out plants that spread to where they shouldn't be.  My friend—who has perfect flower beds—tells me to be ruthless.  I'm the boss.  The plants must bend to my will.  Not my plants.  I'm there to serve them.  I feed and water them, praise them, and admire them.  They're no better behaved than my naughty gray cat and noisy chihuahua.
We start every year well.  My snowdrops push through the cold ground, dangling their delicate white flowers to bring me joy.  Then the daffodils and hyacinths burst into bloom, followed by my tulips.  After that, things get dicey.  My daylilies are greedy and keep pushing for more space.  They happily eat any timid plant blooming next to them.  My tall, spring phlox reseed and pop up where I don't expect them.  My money plants reseed, too, so I'm never sure where they'll be each year.  The irises are easier to deal with, but the allium multiplied like rabbits over the winter.  My peony doubled in size.  No matter.  Miriam's gardens are mulched and beautiful.  Mine are survival of the fittest, but I love them every bit as much.  Flowers amaze no matter where or how they bloom.
FIRST KISS, ON THE HOUSE………..

An infusion of romance is in the mix in the lush and charming town of Mill Pond, Indiana, where anything—and everything—can happen.
As a schoolteacher, Miriam is used to being the one in charge. A born leader with a whip-smart sensibility and a pair of legs that can't be beat, she is adored by many but has never found her one true love. For the most part, that's fine: she has a fulfilling career, a big-hearted family, and a great social life with her best friend Daphne and her better half, Chef Tyne. But when a micro-brewery owner comes to Mill Pond in search of a new beginning, Miriam can't help but wonder whether fate has something else in store for her. . .
Joel is a single father whose divorce left him bruised, bitter, and solely focused on running his business. He doesn't have time to go out on dates, much less begin a new relationship. But when he meets Miriam, he's offered a glimpse into a life he never thought possible. Her warmth and wit are an alluring combination—and she hits it off with his daughter, too. Soon Joel finds himself fantasizing about spending a lifetime of "happy hours" with Miriam. But are each of these strong-willed singletons willing to give up their independence and give love a chance? All it takes is just one kiss to find out . . .
You can purchase FIRST KISS ON THE HOUSE at:
Amazon: http://www.amazon.com/s/?field-keywords=9781516101375
Apple: https://itunes.apple.com/us/book/first-kiss-on-the-house/id1178479631?mt=11
B&N: http://www.barnesandnoble.com/s/9781516101375
Google: https://play.google.com/store/search?q=9781516101375&c=books
Kobo: http://www.kobobooks.com/search/search.html?q=9781516101375
About the Author: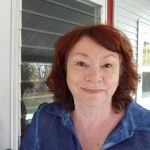 Judi Lynn received a Master's Degree from Indiana University as an elementary school teacher after attending the IPFW campus. She taught 1st, 2nd, and 4th grades for six years before having her two daughters. She loves gardening, cooking and trying new recipes. Readers can visit her website at judithpostswritingmusings.com and her blog writingmusings.com. 

Author Links:
Website:  http://www.judithpostswritingmusings.com/
Twitter:  https://twitter.com/judypost
Facebook: https://www.facebook.com/JudiLynnwrites/?ref=aymt_homepage_panel