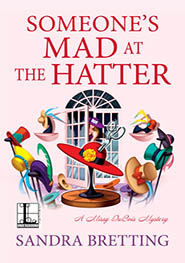 SOMEONE'S MAD AT THE HATTER by Sandra Bretting A Missy DuBois Mystery #3
On New Year's Day, Louisiana milliner/detective Missy DuBois' walks into her parking lot at Crowning Glory and discovers the body of professional wedding planner Charlotte Deveraux inside a whiskey barrel. Since the murder weapon was an old hat stand that belonged to Missy, her customers are cancelling appointments and everyone in town seems to be turning up their noses at her. Despite plenty of intrigue to motivate a hatful of suspects, suspicion keeps falling squarely on Missy. All the more reason to clear her name—or the next veil she designs will come in a shade of black . . .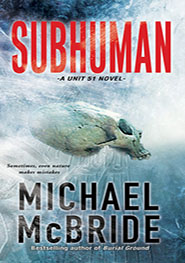 New Series SUBHUMAN by Michael McBride A Unit 51 Novel #1
At a research station in Antarctica, five of the world's top scientists gather to solve one of the greatest mysteries in human history when a series of sound waves trigger the ancient organisms, a new kind of evolution begins. Deep beneath the ice, the submerged ruins of a lost civilization hold the key to the strange mutations that each scientist has encountered across the globe: A misshapen skull in Russia. The grotesque carvings of a lost race in Peru. The mummified remains of a humanoid monstrosity in Egypt. Latching onto a human host—crossbreeding with human DNA—a long-extinct life form is reborn. Its kind has not walked the earth for thousands of years. Its instincts are fiercer, more savage, than any predator alive. And its prey are the scientists who unleashed it, the humans who spawned it, and the tender living flesh on which it feeds . . .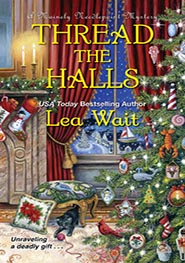 THREAD THE HALLS by Lea Wait A Mainely Needlepoint Mystery #6
This Yuletide season, there's no time for Angie Curtis and Patrick West to linger under the mistletoe. Patrick's being needled by his mother—movie star Skye West—to set the stage for a perfect white Christmas as she brings her costar, screenwriters, and director home for the holidays. The Mainely Needlepointers event offer to decorate Skye's Victorian mansion and create needlepoint pillows as gifts for the guests. But not long after the celebrity celebrants invade Haven Harbor, an unscripted tragedy occurs. Now, Angie and the Needlepointers need to trim down the naughty list, catch a coldhearted killer, and wrap up the case all before Santa arrives in town.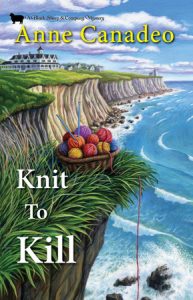 KNIT TO KILL by Anne Canadeo A Missy DuBois Mystery #3
The Black Sheep Knitters group embark on a weekend getaway to a luxury New England Island community in honor of their friend's upcoming wedding. However, the idyllic setting turns into a crime scene shortly after their arrival when the body of a prominent resident is discovered on the rocky coastline. And when the investigation focuses on Amy's husband, the knitters must step in to untangle the clues to finding the crafty killer.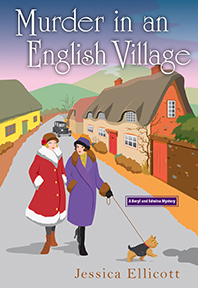 MURDER IN AN ENGLISH VILLAGE by Jessica Ellicott A Beryl & Edwina Mystery
Best friends Beryl, a boisterous and brash American, and Edwina, a prim and proper Brittan, become roommates in the wake of WWI and set up shop as private inquiry agents, helping Edwina to make ends meet and satisfying Beryl's thirst for adventure. Now this odd couple will need to put their heads together to catch a killer—before this sleepy English village becomes their final resting place.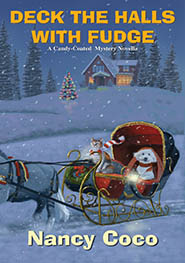 DECK THE HALLS WITH FUDGE by Nancy Coco A Candy-Coated Mystery Novella
In the cozy warmth of their new home on Michigan's Mackinac Island, newlywed seniors Frances and Douglas Devaney savor the picture-postcard snowy scenery through their kitchen window. But when they spy a horse-drawn sleigh dashing through the snow bearing a frozen stiff, their blood runs cold. The victim is banker Warren Engle, stepson of a close friend of Frances. With amateur sleuth Allie McMurphy, their boss at the Historic McMurphy Hotel and Fudge Shop, busy filling holiday orders for peppermint candy fudge, the couple tackle the case themselves, plowing through clues to rein in the runaway culprit . . .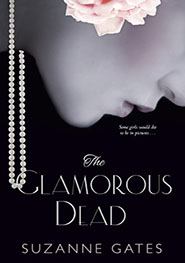 Debut Novel THE GLAMOROUS DEAD by Suzanne Gates
The chipped pink nail polish is a dead giveaway—no pun intended. When and when a human thumb is discovered near a Hollywood nightclub, it doesn't take long for the police to identify its owner. Miss Penny Harp would recognize that pink anywhere: it belongs to her best friend, Rosemary. And so does the rest of the body buried beneath it. Rosemary, with the beauty and talent, who stood out from all other extras on the Paramount lot. She was the one whose name was destined for a movie marquee—not for the obituaries. Now, an LAPD detective thinks Penny is the one who killed her and Penny must prove her innocence with a little help from a world-famous queen of film noir.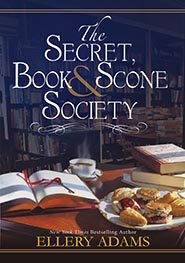 New Series THE SECRET, BOOK & SCONE SOCIETY by Ellery Adams
Nora Pennington, owner of Miracle Books bookstore, has a talent for prescribing the perfect novel to ease a person's deepest pain and lighten their heaviest burden. But, when a visiting businessman is found dead on the train tracks, Nora forms the Secret, Book, and Scone Society, a group of damaged souls yearning to gain trust and earn redemption by helping others. Determined to uncover the truth behind the businessman's demise, the women meet in Nora's cramped and cozy bookstore to share stories and trade support as they untangle a web of corruption, they also discover their own courage, purpose, and a sisterhood that will carry them through every challenge.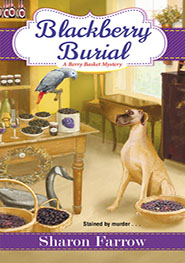 BLACKBERRY BURIAL by Sharon Farrow A Berry Basket Mystery #2
Bakery owner Marlee Jacob agrees to help run the local summer annual road rally in honor of the local Blackberry Art School's centenary celebration, which welcomes alumni arrive from across the USA. But when Marlee surveys the expansive Sanderling farm as a potential starting point, she stumbles upon a long-dead body hidden in the bramble. It's a horrifying mystery to everyone except her baker, who's convinced the skeletal remains belong to a former student who had gone missing twenty years earlier. As the Fourth of July activities heat up, Marlee must rush to catch an elusive murderer—before the next 'blackberry victim' is ripe for the picking!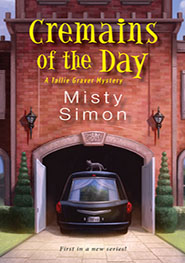 New Series CREMAINS OF THE DAY by Misty Simon A Tallie Graver Mystery#1
Ex-socialite and former funeral home owner Tallulah Graver is surprised to find the murdered body of one of her employers. This unpleasant shock seems to be part of a web of weird experiences: Tallie's friend Gina's shop is broken into, her ex is stun-gunned where it hurts the most, and now she's receiving flowers from the dead woman. Granted the deliveryman is handsome, but seriously, that's enough to cast a pall over anyone's day. Now Tallie needs to dig deep to clean up this mess—before she finds herself in a grave situation.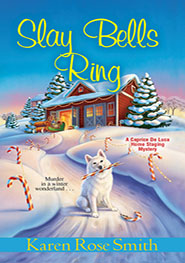 SLAY BELLS RING by Karen Rose Smith A Caprice De Luca Home Staging Mystery #7
It's beginning to look a lot like Christmas, especially now that Caprice De Luca has wrapped up her holiday-themed staging gig at a stunning historic home in downtown Kismit, Pennsylvania. Behind all the red ribbon and glowing string lights, homeowners Chris and Sara Merriweather have it all. But Chris, a Vietnam vet who plays Santa every year at the community park, has been displaying strange behavior after a recent trip to Washington, D.C. And the joy of the season vanishes entirely when Chris is found murdered on Santa Lane, leaving behind his loyal malamute and lots of unfinished business. As Caprice uncovers hidden secrets in Santa's workshop, the pressure is on to catch the candy cane-wielding culprit—before she's next on a killer's deadly wish list . . .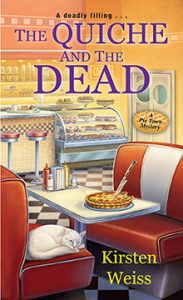 New Series THE QUICHE AND THE DEAD BY Kirsten Weiss A Pie Town Mystery #1
Pie shop owner Valentine Harris is shocked when one of her regulars keels over at the counter while eating a quiche, she feels like she's living a nightmare. After the police determine the customer was poisoned, business at Pie Town drops faster than a fallen crust. Convinced they're both suspects, Val's flaky, seventy-something pie crust maker Charlene drags her boss into some amateur sleuthing. At first Val dismisses Charlene's half-baked hypotheses, but before long the ladies uncover some shady dealings hidden in fog-bound San Nicholas. Now Val must expose the truth—before a crummy killer tries to shut her pie hole.