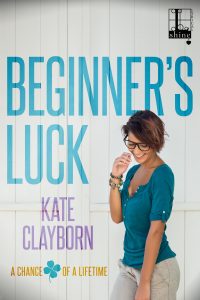 Salvage Store Finds by Kate Clayborn
When I set out to write a series about three best friends who win the lottery, I knew one thing for sure: I didn't want to write three books about money. Instead, I wanted to write three books about how these friends adapted to a life in which more things were possible for them—to a life where long-held dreams might finally be made into a reality.
For Kit, the heroine of BEGINNER'S LUCK, that long-held dream is buying a house, something she's never really had before. When I was planning Kit's story, I knew I wanted her to buy something historic, something she could restore and fill with items that had a true history to them, because she's lived much of her life feeling like she hasn't had much stability or history of her own. Lucky for Kit, there's a guy in town who can help—Ben Tucker, who's got many years of experience working on home restoration through the work he's done in his father's salvage yard.
It might be possible that I incorporated an architectural salvage yard into BEGINNER'S LUCK because I absolutely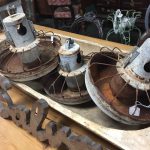 love these places. If you've never been to one, and you happen to have one anywhere nearby, take a day and check out all the not-so-buried treasure that's in there. A few years ago, when my husband and I first bought our house in the city we now call home, we found a salvage yard much like the one that features in Kit and Ben's story, and one Saturday afternoon, we spent hours there—me, slack-jawed and directionless, totally overwhelmed by all the amazing finds, and my husband, a bit more focused and purposeful, trying to explain to me what use could be made out of five hundred bricks from an early twentieth century chimney (guess what? We bought the bricks).
Not to sound too HGTV about it all, but I've got a few favorite things I like to check out at salvage yards, and when I was writing BEGINNER'S LUCK, I was inspired by so many of these favorites. First, I love looking at old doors, like the ones here. In most newer homes, doors are almost always a standard six-panel, often hollow inside—but the beauties you find in places like these are usually solid, full of interesting dings and grooves, and there's all kinds of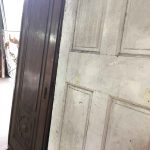 different latches and hinges and closures on them. For me, the front door of a house has a lot of meaning—it's part safety, part welcome, and for someone like Kit, I think a classic, restored front door would hold a lot of appeal.
I'm also a sucker for old light fixtures, and in BEGINNER'S LUCK, one of the first things Kit picks out for herself—with Ben's help—is a light for her entryway. At any given salvage yard, you'll find tons of old lights—and some of my favorites are the rusty, industrial style basics, designed to hang from the ceiling. In isolation, I suppose they look a little ugly, but I love the idea of these set against the warm space of someone's home—a big, bright, bold light that probably helped countless people get work done.
Finally—as Ben is fond of stressing over a little when he's in his dad's salvage yard—these places are also full of the stuff that defies categorization. You'll be walking along, thinking you're in the section of old, battered window frames, and then all of a sudden it's like—bam! An old bike, half an old fence, an iron garden chair that weighs as much as a headstone, a fan that can't possibly ever work again, a potting stand that's missing a leg. I admit that I'm not the kind of person who can always appreciate this sort of chaos, but spending time in salvage yards taught me to slow down a bit when I'm confronted with messy, ill-fitting stuff that doesn't seem to have a real "place." There's a lot of treasure to be had here, and when I was imagining what Kit would want for her first home—what should would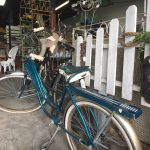 learn about making her first home, this kind of treasure stuck in my mind. Kit's not been lucky enough in her life to have family heirlooms, things from her past that she got to take with her from place to place, and so a salvage yard like this would have its own kind of magic for her.
Some of the most fun I have when writing is thinking about the places that would mean a lot to my characters, and for BEGINNER'S LUCK, that was especially so—I got to think about Kit's house, her long-held dream that the lottery made possible for her, but I also got to think about the kind of place that would help Kit make her house a home. I hope you'll love reading about Kit and Ben and all the treasures they find together in this book. Happy reading—and happy salvaging, maybe?
BEGINNER'S LUCK:
When three friends impulsively buy a lottery ticket, they never suspect the many ways their lives will change—or that for each of them, love will be the biggest win of all.
Kit Averin is anything but a gambler. A scientist with a quiet, steady job at a university, Kit's focus has always been maintaining the acceptable status quo. A sudden windfall doesn't change that, with one exception: the fixer-upper she plans to buy, her first and only real home. It's more than enough to keep her busy, until an unsettlingly handsome, charming, and determined corporate recruiter shows up in her lab—and manages to work his way into her heart . . .
Ben Tucker is surprised to find that the scientist he wants for Beaumont Materials is a young woman—and a beautiful, sharp-witted one at that. Talking her into a big-money position with his firm is harder than he expects, but he's willing to put in the time, especially when sticking around for the summer gives him a chance to reconnect with his dad. But the longer he stays, the more questions he has about his own future—and who might be in it.
What begins as a chilly rebuff soon heats up into an attraction neither Kit nor Ben can deny—and finding themselves lucky in love might just be priceless . . .
YOU CAN PURCHASE BEGINNER'S LUCK AT:
Kensington Books
ABOUT THE AUTHOR:
Kate Clayborn lives in Virginia, where she's lucky enough to spend her days reading and talking about all kinds of great books. At home she's either writing, thinking about writing, or–during long walks around her fabulous neighborhood—making her handsome husband and sweet-faced dog listen to her talk about writing.
Website: www.KateClayborn.com
Facebook: www.facebook.com/KateClaybornBooks
Twitter: www.twitter.com/KateClayborn