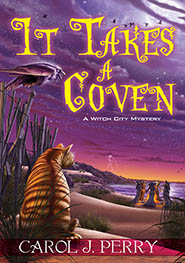 IT TAKES A COVEN by Carol J Perry
A Witch City Mystery #6
When Lee Barrett joins a former student's bridal party as maid of honor, she expects cake tastings and dress fittings. But wedding planning becomes more peculiar than Lee's scrying talents could ever predict. There's a magical baker, a best man with a checkered past, and a talking crow named Poe as the ring bearer. There's also a kindly old man dead under his apple tree—one of a series of unexplained deaths hanging over the Wiccan community. With witches dropping dead before they even come out of the proverbial broom closet, Lee's best friend, River, fears she might have somehow unleashed a terrible curse on the city. Now, aided by Poe and her clairvoyant cat, Lee sets out to investigate. Are lives being claimed by vengeful supernatural forces—or by something more shocking?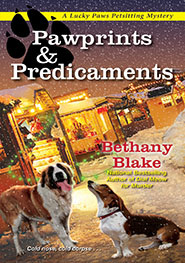 PAWPRINTS & PREDICAMENTS by Bethany Blake
A Lucky Paws Petsitting Mystery #3
The Tail Waggin' Winterfest is the highlight of the season in the famously pet-friendly Pocono Mountains town of Sylvan Creek. But despite attractions like an ice sculpture display, a dogsled race, and gourmet hot chocolate, Daphne Templeton finds herself annoyed by TV producer Lauren Savidge, who's filming the festivities. During the first-ever polar bear plunge in Lake Wallapawakee Daphne and Lauren are among the eighty or so people who charge into the frigid water to raise funds for animals in need. Daphne makes it back to shore—with the help of a mysterious St. Bernard—but Lauren is dragged out stone cold dead. Now, with her trusty basset hound Socrates at her side, Daphne intends to assist Detective Jonathan Black in his investigation. Includes recipes for homemade pet treats!
New Series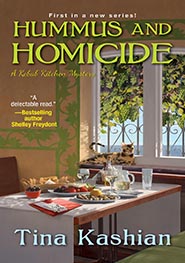 HUMMUS AND HOMICIDE by Tina Kashian
A Kebab Kitchen Mystery
When Lucy Berberian quits her Philadelphia law firm and heads home to Ocean Crest, NJ, she knows what she's getting—the scent of funnel cake, the sight of the wooden roller coaster, and the tastes of her family's Mediterranean restaurant. Things are slow in the off-season, but Lucy doesn't mind waitressing at the Kebab Kitchen, which has a new hummus bar, with every flavor from lemon to roasted red pepper. But when Heather Banks, the mean-spirited Gucci-toting ex-cheerleader, takes over as the local health inspector and dies just minutes after eating at the Kebab Kitchen, word on the grapevine is it's homicide, and Lucy's the number one suspect . . . Recipes included!
New Series
COLOR ME MURDER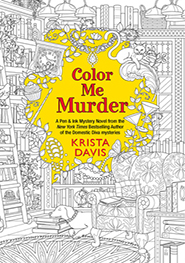 by Krista Davis
A Pen & Ink Mystery
This first book in Krista's new Pen & Ink Mystery series stands out from her top-selling Domestic Diva Mysteries series and Paws & Claws Mysteries series because readers can color in and personalize their book covers as they explore the vibrant world of adult coloring book illustrator, Color Me Read bookstore manager, and amateur detective Florrie Fox!