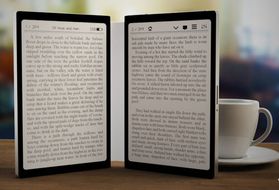 While dual screen eReaders have been around for awhile, they've generally been marketed to musicians. E-Ink has unveiled a new generation eReader with a 10.2-inch screen that will open and close like a real book.
As eReaders have advanced featuring better color, graphics, water resistance and bigger screens, dual screen readers may be the wave of the future. One company E-Ink unveiled the latest dual screen eReader at the electronics show.
There are no details yet on operating systems that will be available.