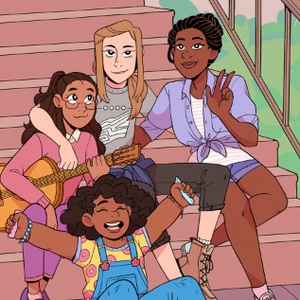 From Little, Brown Books Press Release:
Little, Brown Books for Young Readers and Tapas Media are pleased to announce the upcoming release of Meg, Jo, Beth, and Amy, a modern-day adaptation of Louisa May Alcott's classic Little Women in full-color graphic novel form, to commemorate its 150th anniversary with a new generation of readers.
The themes and plot of the original story remain the heart of Meg, Jo, Beth, and Amy, as the beloved March sisters support each other through the seasons while their father serves in the US armed forces. In this modernized retelling, the March family is blended, multiracial and LGBTQ-inclusive, with updates making it resonant to an even wider swath of today's young readers.
Little, Brown, a division of Hachette Book Group, was the original publisher of Little Women in the US; this 2018 re-envisioning revisits the serialized format popular at the time of original publication, with a modern twist: a serial release as an online graphic novel launching March 7, 2018, a day before International Women's Day. A new episode will be revealed every week on Tapas's popular digital comics and novels platform through October, to be followed by a release of paperback & ebook editions in November 2018.
Speaking on the collaboration:
REX OGLE, Little, Brown Books for Young Readers Senior Editor:
"The movie Clueless (based on Jane Austen's Emma) was central to a whole generation of movie-goers, and I'm hoping that Meg, Jo, Beth, and Amy does the same for graphic novel readers. I was thrilled to collaborate with Tapas as they're creating so much fresh and fun content, and tapping into a whole new group of online readers that may or may not be reading print books. After all, our whole world is changing in terms of where people find content, and creating a bridge between digital and print is a smart next step.  It also came as no surprise that Tapas had a whole pool of diverse and innovative talent, writers and artists who grew up with digital, and so considered it the best place to put out their stories.  It's through Tapas we found Rey and Bre, who seemed perfect for this project as they had handled similar themes in previous works. We're doing something completely new and innovative in the landscape of publishing. I can't wait to see how fans react."
REY TERCIERO, Writer:
"I loved Little Women growing up. Their struggles felt universal to me, especially feeling like I always had less than others. So it's an absolute honor to be writing a re-telling of it. But Bre and I wanted to see ourselves in the characters too, which is why we made the family diverse and one of the characters LGBTQ. Jo is my favorite, so I wanted to play with the subtext that may not have been available 150 years ago, but that we can speak openly about these days. Being LGBT myself, I'm just happy to be creating a book that I wish I could have read as a young reader.  But it's also very PG, and very sweet. I wanted to be sensitive with the heavy topics while staying true to Alcott's vision of empowering young women."
BRE INDIGO, Artist (creator of Tapas's Jamie):
"Meg, Joe, Beth and Amy have so much in common with today's youth and hopefully when young readers pick up the book they can find themselves in the girls, and apply their growth to their own lives.  My personal goal as an artist is to help others to embrace empathy, to relate to one another and grow as individuals. And I think our book does just that."
ADRIENNE McWHORTER, Chief Content Officer at Tapas Media:
"With the evolution of digital comics and novels, we are excited to bring to life the wonderful story of Little Women with the brilliant team at Hachette Book Group. Many of us grew up with Alcott's seminal works and so it's been an absolute joy for the teams to collaborate and modernize the novel with Bre McCoy's artworks. Tapas's female audience already numbers a million every month reading on mobile devices and so it's with great pleasure that we are able to celebrate the 150th anniversary of the book in this way."
CHANG KIM, Tapas Media's CEO:
"As Tapas Media focuses its growth in premium portfolio content and audience base, we are proud to kickstart 2018 with a prominent partnership and release with Hachette Book Group. We are excited to continue to innovate ways to tell stories within the digital content market, and look forward to announcing more adaptations with Hachette in the near future."
ABOUT LITTLE, BROWN BOOKS FOR YOUNG READERS
Little, Brown Books for Young Readers is a division of Hachette Book Group, a leading trade publisher based in New York and a division of Hachette Livre (a Lagardère company), the third-largest trade and educational publisher in the world. HBG is made up of eight publishing groups: Little, Brown and Company; Little, Brown Books for Young Readers; Grand Central Publishing; Perseus Books; Orbit; Hachette Books; Hachette Nashville; and Hachette Audio. For more information, visit hbgusa.com.
ABOUT TAPAS MEDIA
Tapas Media is a next-generation digital publishing company specializing in bite-sized comic books and novels for its Tapas mobile and online platforms.  Tapas Media properties, which consist of the Tapas mobile app and Tapas.io, boasts over 2 billion content views to date, from over 2 million readers, primarily in North America. In 2017, the company expanded to premium, licensed content to add to its existing 35,000+ titles from 27,000+ creators. Founded in 2012, the company is headquartered in San Francisco.  For more information, visit http://www.tapas.io, or download Tapas (search Tapas Media) from the Apple App Store or Google Play Store.