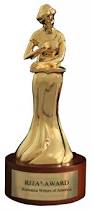 The Romance Writers of America has announced the finalists for the 2018 RITA and Golden Heart awards.
The RITA, the highest award of distinction in romance fiction, recognizes excellence in published romance novels and novellas. The Golden Heart recognizes excellence in unpublished romance manuscripts.
Award winners will be announced on July 19 at the 2018 RWA Conference in Denver, Colorado.
2018 RITA Finalists
---
Best First Book
Black Bird of the Gallows by Meg Kassel
Entangled Publishing, Entangled Teen
Liz Pelletier, editor
His Perfect Partner by Priscilla Oliveras
Kensington Publishing Corp., Zebra Shout
Martin Biro, editor
Take the Lead by Alexis Daria
St. Martin's Press, Swerve
Holly Ingraham, editor
The Thing with Feathers by McCall Hoyle
HarperCollins, Blink
Jillian Manning, editor
Waltzing with the Earl by Catherine Tinley
Harlequin Mills & Boon, Historical
Julia Williams, editor
---
Contemporary Romance: Long
Falling Hard by Lexi Ryan
Self-Published
Rhonda Merwarth, editor
Famous by Jenny Holiday
Self-Published
Tracy Montoya, editor
No One but You by Brenda Novak
Harlequin, Mira
Emily Ohanjanians, editor
Take the Lead by Alexis Daria
St. Martin's Press, Swerve
Holly Ingraham, editor
Tougher in Texas by Kari Lynn Dell
Sourcebooks, Casablanca
Mary Altman, editor
The Whys Have It by Amy Matayo
Self-Published
Kristin Avila, editor
The Wingman by Natasha Anders
Amazon, Montlake Publishing
Melody Guy, editor
---
Contemporary Romance: Mid-Length
His Perfect Partner by Priscilla Oliveras
Kensington Publishing Corp., Zebra Shout
Martin Biro, editor
Lucky Charmed by Sharla Lovelace
Kensington Publishing Corp., Lyrical Shine
Wendy McCurdy, editor
New Leash on Life by Roxanne St. Claire
Self-Published
Kristi Yanta, editor
Redemption by Kelly Moran
Self-Published
A. J. Nuest, editor
Royally Wed by Teri Wilson
Pocket Books, Pocket Star
Marla Daniels, editor
Summer Stock by Vanessa North
Riptide Publishing
Carole-Ann Galloway, editor
Tell Me by Abigail Strom
Amazon, Montlake Publishing
Maria Gomez and Charlotte Herscher, editors
This Can't Be Love by Maria Geraci
Self-Published
Rhoda McDuffey, editor
You Do Something to Me (The Sullivans) by Bella Andre
Oak Press, LLC
Bella Andre, editor
---
Contemporary Romance: Short
Christmas at the Graff by Kaylie Newell
Tule Publishing, Montana Born
Sinclair Sawhney, editor
The Cowboy Upstairs by Tanya Michaels
Harlequin, Western Romance
Johanna Raisanen, editor
The Doctor and the Princess by Scarlet Wilson
Harlequin Mills & Boon, Medical Romance
Nicola Caws, editor
Miracle on Chance Avenue by Jane Porter
Tule Publishing, Montana Born
The Princess Problem by Teri Wilson
Harlequin, Special Edition
Gail Chasan, editor
Second Chance Summer by Kait Nolan
Self-Published
Susan Bischoff, editor
The Sheikh's Convenient Princess by Liz Fielding
Harlequin, Romance
Bryony Green, editor
---
Erotic Romance
Constant Craving by Tamara Lush
Self-Published
Jami Nord, editor
Deposition and a Dare by Evelyn Adams
Self-Published
The Atwater Group, editor
The Rivalry by Nikki Sloane
Self-Published
Karen Dale Harris, editor
Stud by Jamie Schmidt
Penguin Random House, Loveswept
Sue Grimshaw, editor
Wicked Dirty by J. Kenner
Martini & Olive Books
Martini & Olive, editor
---
Historical Romance: Long
Between the Devil and the Duke by Kelly Bowen
Grand Central Publishing, Forever
Alex Logan, editor
The Day of the Duchess by Sarah MacLean
HarperCollins, Avon Books
Carrie Feron, editor
Mad for the Marquess by Jess Russell
The Wild Rose Press, Tea Rose
Nicole D'Arienzio, editor
The Scandalous Flirt by Olivia Drake
St. Martin's Press
Jennifer Enderlin, editor
The Scoundrel's Honor by Christi Caldwell
Amazon, Montlake Publishing
Alison Dasho, editor
---
Historical Romance: Short
Blame It on the Duke by Lenora Bell
HarperCollins, Avon Books
Carrie Feron, editor
The Demon Duke by Margaret Locke
Self-Published
Tessa Shapcott, editor
The Rogue's Conquest by Lily Maxton
Entangled Publishing, Scandalous
Alycia Tornetta, editor
The Scandal of It All by Sophie Jordan
HarperCollins, Avon Books
May Chen, editor
A Scottish Lord for Christmas by Lauren Smith
Grand Central Publishing, Forever Yours
Madeleine Colavita, editor
Waltzing with the Earl by Catherine Tinley
Harlequin Mills & Boon, Historical
Julia Williams, editor
Within a Captain's Soul by Lisa Olech
Kensington Publishing Corp., Lyrical Press
Amanda Siemen, editor
---
Mainstream Fiction with a Central Romance
The Night Mark by Tiffany Reisz
Harlequin, Mira
Susan Swinwood, editor
Now that You Mention It by Kristan Higgins
Harlequin, HQN
Susan Swinwood, editor
Shelter the Sea by Heidi Cullinan
Self-Published
Sasha Knight, editor
Unloved, a Love Story by Katy Regnery
Self-Published
Chris Belden and Melissa DeMeo, editors
---
Paranormal Romance
Bishop by Marie Johnston
Self-Published
Razor Sharp Editing, editor
The Druid Next Door by E. J. Russell
Riptide Publishing
Rachel Haimowitz, editor
Eleventh Grave in Moonlight by Darynda Jones
St. Martin's Press
Jennifer Enderlin, editor
Hunt the Darkness by Stephanie Rowe
Self-Published
Song of the Nightpiper by Hannah Meredith
Self-Published
Anna D. Allen, editor
Spectred Isle by K. J. Charles
Self-Published
To Enthrall the Demon Lord by Nadine Mutas
Self-Published
Faith Freewoman, editor
Wanted and Wired by Vivien Jackson
Sourcebooks, Casablanca
Cat Clyne, editor
---
Romance Novella
"Dancing with the Duke's Heir" by Bronwyn Scott
in Scandal at the Christmas Ball
Harlequin Mills & Boon, Historical
Nicola Caws, editor
Her Duke at Daybreak by Wendy LaCapra
Self-Published
The Killion Group, editor
"In His Arms" by Jules Dixon
in Falling: Small Town Love Anthology
Self-Published
Michelle Josett, editor
"The Pursuit Of…" by Courtney Milan
in Hamilton's Battalion: A Trio of Romances
Self-Published
Lindsey Faber, editor
The Secret of My Seduction by Caroline Linden
Self-Published
Martha Trachtenberg, editor
"Sweet Home Highlands" by May McGoldrick
in Christmas in Kilts: A Highland Holiday Box Set
St. Martin's Press, Swerve
Eileen Rothschild, editor
Until the Sun Sets by Tara Wyatt
St. Martin's Press, Swerve
Holly Ingraham, editor
---
Romance with Religious or Spiritual Elements
Grounded Hearts by Jeanne M. Dickson
Amazon, Waterfall Press
Sheryl Zajechowski, editor
A New Shade of Summer by Nicole Deese
Amazon, Waterfall Press
Sheryl Zajechowski, editor
A Note Yet Unsung by Tamera Alexander
Bethany House Publishers
Karen Schurrer, editor
One Simple Wish by Katy Lee
Annie's Fiction
Janice Tate, editor
---
Romantic Suspense
Critical Instinct by Janie Crouch
Amazon
Stephanie Scott, editor
The Fixer by HelenKay Dimon
HarperCollins, Avon Books
May Chen, editor
Guarding Mr. Fine by HelenKay Dimon
Penguin Random House, Loveswept
Shauna Summers, editor
Montana Heat: Escape to You by Jennifer Ryan
HarperCollins, Avon Books
Lucia Macro, editor
Say You're Sorry by Melinda Leigh
Amazon, Montlake Publishing
Charlotte Herscher and Anh Schluep, editors
Too Wilde to Tame by Tonya Burrows
Entangled Publishing, Ignite
Heather Howland, editor
Touch of Red by Laura Griffin
Pocket Books
Abby Zidle, editor
The Transporter by Liz Maverick
Amazon, Montlake Publishing
Alison Dasho, editor
Under Fire by Scarlett Cole
St. Martin's Press
Lizzie Poteet, editor
---
Young Adult Romance
Black Bird of the Gallows by Meg Kassel
Entangled Publishing, Entangled Teen
Liz Pelletier, editor
Letters to the Lost by Brigid Kemmerer
Bloomsbury Publishing, Bloomsbury Childrens USA
Mary Kate Castellani, editor
Seize Today by Pintip Dunn
Entangled Publishing, Entangled Teen
Liz Pelletier, editor
The Thing with Feathers by McCall Hoyle
HarperCollins, Blink
Jillian Manning, editor
---
2018 Golden Heart Finalists
---
 Contemporary Romance
Caught on Film by Arianna James
Duet by Gwynne Jackson
Fighter by Sarah Morgenthaler
A Hope to Build On by Josee Telfer
How to Reset a Broken Heart by Amy Katherine Jones
North Star by Katherine Olson
Played by Melanie Edmonds
Thrown by Arianna James
Well-Played by Alexandria Bellefleur
---
Contemporary Romance: Short
Cole for Christmas by Janet Raye Stevens
Falling for the Best Man by Jamie Dallas
Out of the Shadows by D. Murphy Ryan
Somebody Like You by Marty Mayberry
Space Junk: Houston, We Have a Hottie by Sara L. Hudson
Watching by Barbra Campbell
---
Historical Romance
The Art of the Scandal by Suzanne Turner
The Duke's Seduction by Masha Levinson
The Duke of Charlotte Street by Scarlett Peckham
The Earl I Ruined by Scarlett Peckham
A Featured Affair by Kate Belli
The Rakess by Scarlett Peckham
Remember Texas by Laura Conner Kestner
An Unloved Earl by Eileen Emerson
---
Mainstream Fiction with a Central Romance
Birds of a Feather by Anna Murray
The Brass Queen by Elizabeth Chatsworth
Circle in Time by Susan Bickford
Keeping the Piece by Brenda Lowder
Wild Women and the Blues by Denny S. Bryce
---
Paranormal Romance
Awakening the Blades by Alexia Chantel
The Demon's in the Details by Jeanne Oates Estridge
House of Ash and Brimstone by Megan Starks
Inherent Lies by Alicia Anthony
Jinn on the Rocks by Kay Hudson
Leap of Fate by Kimberly MacCarron
---
Romantic Suspense
Deadly Aim by Tracy Brody
Extreme Fear by Pamela Varnado
Fair Haven by Laura Conner Kestner
Fearless by Marty Mayberry
Goode Over Evil by Leslie Marshman
Lovely Digits by Jeanine Englert
---
Young Adult Romance
All Our Broken Pieces by TL Sumner
Engineering Kit Sinclair by Lana Pattinson
Loving Outside the Lines by Kimberly MacCarron
Mouthful by C. R. Grissom
Our Red String by Kimberly MacCarron