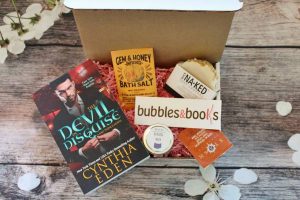 A recent study by Sussex University concluded reading books can reduce stress levels by as much as 68%. So, we can across something really fun here at Reader's Entertainment………a subscription box for readers and a bit of bubbles certain to reduce stress levels. (we get no monetary compensation for this article.)
We found a subscription box to help you do just that. This is a subscription service that sends out a Bubbles and Books box every month!
Here's more from their webpage:
Romance & Relaxation—delivered monthly!
Quality "Me Time" is in short supply these days—and we want to fix that. Winding down at the end of the day with a steamy bath and a good book is one of life's simplest pleasures! What you can expect: a romance book in a genre you love, a heavenly artisan soap, premium bath bomb and at least two other book & bath related goodies!
Each box includes: One curated Romance novel + One themed artisan soap to nourish and soften your skin + One themed bath bomb to add essential oils, scents, bubbles, and color to your bathwater + Two to three bath or book-related goodies to enhance your relaxation experience = Romance & Relaxation, delivered monthly :).
3 subscriptions options based on genre: Bad Box Box (Get steamy with a bad boy romance), Swept Away Box (get swept into the past with historical romance) or Mystic Box (fulfil your otherworldly desires with paranormal romance).
The company, Bubbles and Books, also offer subscription boxes in other genres, paranormal, fiction, etc. Here is a link to their website.