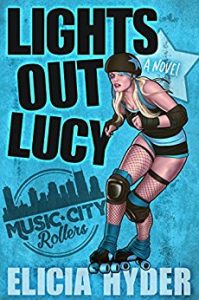 Welcome Elicia, we're excited to have you on Reader's Entertainment. First, tell our readers a bit about yourself. Where you're from, where you live? Is writing your full-time job?
How long have you been writing? I've been writing since I was old enough to hold a pen, but most of that was gibberish or YA steamy romance about the boys I liked in high school. God, I hope no one ever finds that. I've been published now for three years and have just released my 9th novel, Lights Out Lucy: Roller Derby 101
Briefly describe your writing day. I'm probably the least structured person I know. With five kids, it's hard to keep to a schedule. Most days, I wake up and handle business stuff first. Then, after a few cups of coffee, my brain will be alert enough for creativity. I try to write every day.
Tell us about your latest release? Lights Out Lucy: Roller Derby 101 follows the story of a young woman who moves to Nashville to recover from the sudden loss of her mother to cancer. She rear-ends a man—literally—in morning traffic who happens to not only be drop-dead gorgeous, but also the main sponsor of the local roller derby team. Lucy is determined to catch his attention, but being that she might be the most accident-prone person on the planet…hilarity ensues.
Your series The Soul Summoner is a paranormal/thriller series which has a unique premise. Can you tell us about it, and where the idea came from? The Soul Summoner started as a joke. It's about a woman who may or may not have a superpower–and she certainly doesn't want it if it happens to be true. My best friend once joked that I had the ability to talk about people and make them show up. Like, gushing about a new crush who should be nowhere in the vicinity, then turning the corner and running into them face-first. Not that such a thing ever happened. J
Lights out Lucy is far different than The Soul Summoner. Roller Derby? Wow, that is really different and fun. I heard a rumor that you might have skated some roller derby in your time, spill the details, please! I actually played for the Nashville Rollergirls back in 2010/2011 under the skater name "eL's Bells." It was so much fun, and such a wonderful community to be a part of. We trained hard. We partied harder. But at the end of the bout, it was really all about being a derby family.
Will there be more from the roller derby series?  Absolutely! Book 2 is scheduled for release later this summer or in the fall. It follows a different skater on the team who's just come through a bitter divorce. Talk about someone needing to exercise so frustration on the derby track!
Can you share a bit about Lady Fury? Her impact on the series, and behind the scenes secrets from the roller derby world? Ahh…Fury. Lady Fury actually dared me into joining the team through a mutual friend of ours. I only wanted to borrow her jersey for Halloween, and her response was: "What? Is she too big of a $#$$% to play herself?" Six months later, I made the team. And Fury is a roller derby legend. And absolutely beast to watch on the track. These days she's retired from derby and works with me planning reader events at roller derby bouts all over the world.
Could you share one detail from your current release with readers that they might not find in the book? Perhaps a juicy bit of back-story, or something only you know about a character. In Lights Out Lucy, Lucy meets Hollywood superstar Trip Wiley at a party. Trip was borrowed from another book series called REMEMBER WHEN by T. Torrest that I absolutely fell in love with a couple of years ago. Torrest is a friend of mine now, so I called and begged her to let Trip come party with my characters. She graciously agreed.
Who has been the most difficult character for you to write? Why? Jake Barrett, the Nashville playboy, was by far the most difficult character for me to write in Lights Out Lucy. Why? Because he kept trying to steal the show! Seriously, I love Jake Barrett, and I can't wait to release his novel in the future.
If you could be one of your characters for a day which character would it be? Why? I'd want to be Lucy because she gets to be with West Adler. I mean, for real. He's handsome, funny, rich. The benefactor of not one, but two children's hospitals…not to mention, he loves rollergirls which means he doesn't need his damsels to be in distress.
All writers are readers. Are there any particular authors that have influenced how you write and, if so, how have they influenced you? This list could get very long, very quickly. I'll narrow it down to the first few that come to mind. One of my favorite authors is Philippa Gregory. She writes historical fiction. The thing I love most about her books are the details and facts she weaves into the story. That's taught me a lot about research and how, no matter the genre you write it, getting the details right is essential to helping your readers get lost in the pages.
Another is Charlaine Harris. I looove her writing style. So smooth. So normal. So much like a conversation between friends. I'll never forget the first time a reader compared the style of The Soul Summoner to the Sookie Stackhouse books. I don't think I've come down yet from that compliment.
Lastly, one author I don't talk about often enough is David Sedaris, the master of HILARIOUS short stories. I think my books are funnier because his writing has taught me to look for the humor in everything. The sad. The painful. The profound. Laughter is everywhere; you only must find it.
Do you have a secret talent readers would be surprised by? I can put both feet behind my head. My husband loves it.
Your favorite go to drink or food when the world goes crazy! Diet Coke. I'm such a sucker.
What is the one question you never get ask at interviews, but wish you did? Ask and answer it. Nobody ever asks what my favorite book is that I've written, and to answer it, I'll say THE BED SHE MADE. It was the first book I ever published, and probably the most personal thing I'll ever write. The story came to me on the heels of losing my first husband and right before I married my second. Lots of emotions are in those pages, and oh so much healing. It's a story about reaping what you sow, and how sometimes you get the exact opposite of everything you deserve.
Thank you so much for joining us today Elicia. Readers, you can find all of Elicia's books on her webpage.