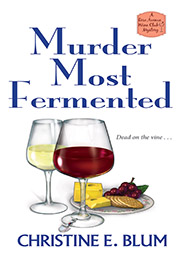 Murder Most Fermented: A Rose Avenue Wine Club Mystery #2 Christine E. Blum
Murder and merlot! The ladies of the Rose Avenue Wine Club are back to track down another killer . . .
When New York transplant Annie "Halsey" Hall starts digging for her tiny SoCal dream vineyard off Rose Avenue, the last thing she expects to unearth is an elderly woman. Between decanting chardonnays and rosés, Halsey and the women of the Wine Club pour over the list of suspects. Could the old woman have bottlenecked her great grandson's latest scheme? Was it a case of super sour grapes with the local historical society? Or did a devious developer close a killer deal?
With the help of the Wine Club and her enthusiastic yellow lab, Bardot, Halsey must untangle the twisted tendrils of the mystery to clear her name and end a murderer's reign of terror . . .
About the Author
Christine E. Blum was born in Shaker Heights, Ohio. At the age of seven, her parents moved to Europe and luckily took her with them. Christine grew up in Paris, Brussels, and finally London, and along the way developed her unique brand of humor. She lives in Southern California where she's allowed to share a house and pool with her famous yellow Lab, Bardot, who just happens to be able to dive 10' underwater, has appeared on Animal Planet, and was featured in the New York Times bestseller, Underwater Dogs. When not signing paw-tographs, she can be found lounging by the pool and solving murders. Readers can visit Christine's website at christineeblum.com.
roseavenuewineclub.com
www.facebook.com/The-Rose-Avenue-Wine-Club
www.facebook.com/Christine-E-Blum
facebook.com/Christine-E-Blum
christineblum.wordpress.com
www.instagram.com/christineeblum
bardot.smugmug.com
Pamela is hosting the next Knit and Nibble meeting and can't wait to liven up her otherwise empty home with colorful yarn, baking, and a little harmless gossip. She even recruits Amy Morgan, an old friend who recently moved to town, as the group's newest member. But on the night of the gathering, Amy doesn't show. Not until Pamela finds the woman dead outside—a knitting needle stabbed through the front of her handmade sweater . . .
Someone committed murder before taking off with Amy's knitting bag, and Pamela realizes that only she can spot the deadly details hidden in mysterious skeins. But when another murder occurs, naming the culprit—and living to spin the tale—will be more difficult than Pamela ever imagined . . .
Knitting tips and delicious recipe included!
About the Author:
Peggy Ehrhart is a former English professor who lives in Leonia, New Jersey, where she writes mysteries and plays blues guitar. She holds a Ph.D. in medieval literature from the University of Illinois and taught writing and literature at Queens College, CUNY, and Fairleigh Dickinson University, where she was a tenured full professor. Her short stories have appeared in Futures Mystery Anthology Magazine, Crime and Suspense, Flashing in the Gutters, Spinetingler, Crime Scene: New Jersey 2, and Murder New York Style. A longtime member of Mystery Writers of America and Sisters in Crime, Peggy served on the board of MWA New York as head of the Mentor Committee. She was president of Sisters in Crime NY/TriState from 2013 to 2015. Peggy regularly attends mystery writing conferences and participates in conference panels and also gives talks on mystery fiction at libraries in New York, Connecticut, and New Jersey.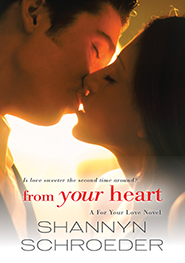 From Your Heart: A For Your Love Novel #4
Shannyn Schroeder
Something Old?. . .
Kathy "Play it Safe" Hendricks isn't used to taking risks, or fighting for what she wants. But as Maid of Honor in her best friend's wedding, Kathy will do anything to make sure it all goes smooth as bridal silk. She didn't plan on the Best Man being Kevin O'Malley, the hotter-than-flames, can't-commit bad boy who broke her heart five years ago.
Something New . . .
Kevin has never forgotten Kathy, the sweet, sexy brunette who ghosted him just when he was starting to think he was ready for something more. Kathy was different from the other girls Kevin dated, and five years later it's truer than ever. Only now he senses a new strength in the shy girl who left him hanging all those years ago. And this time, he's not going to let her get away . . .
Sometimes first love needs a second chance.
About The Author:
Shannyn Schroeder  is a former high school and middle school English teacher. She holds a BA in English and MAs in Special Education and Gifted Education. She currently works as an editor for an education company and juggles writing around her kids' schedules.
When you don't know how the story will end . . .
After years of hard work honing his craft, Blake Morgan is now an international bestselling author. But one thing he never imagined was that his fictional world would become all too real. When a stalker turns Blake's latest book tour into a treacherous and nearly deadly trap, it's time for Blake to hire protection. But the body assigned to keep an eye on him is someone he never wants out of his sight . . .
As a bodyguard for Vigilance, the private security agency in Blake's hometown of Arrowhead Bay, Samantha Quenel has found the perfect outlet for her military experience. But her latest client is also a former high school flame, which might explain her willingness to protect Blake at all costs—even if that means staying in the same room with him, on the same bed, under the same torrid sheets . . .
About The Author:
Desiree Holt is the USA Today bestselling author of the Game On! and Vigilance series, as well as many other books and series in the romantic suspense, paranormal and erotic romance genres. A RT Book Award finalist, she has been awarded of the HOLT Medallion for Excellence in Romance Literature and is a two-time CAPA Award winner. Desiree has been featured on CBS Sunday Morning and in The Village Voice, The Daily Beast, USA Today, The (London) Daily Mail, The New Delhi Times, The Huffington Post and numerous other national and international publications.
You can find these titles and more at Kensington Books.