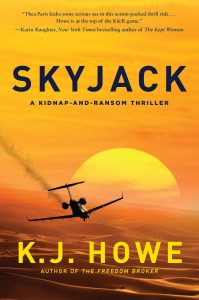 SKYJACK A New Thriller from Author K.J. Howe
Since the September 9/11 attacks, more security measures and attention have been given to terrorism and potential highjacks. Kidnapping and hijacking go hand in hand. In fact, with 17 hijacking situations taking place since 2001, and over 40,000 reported kidnappings every year — which translates to five people every hour—the world of kidnap and ransom is taking on a newsworthy role across the globe. Displaced military and police in third world countries have no way to put food on the table, but they do have security skills, so they have turned to kidnapping and ransom as a way of making a living. Also, terrorists are using kidnapping as a fundraising enterprise, filling their coffers with over 125 million dollars since 2009. Key targets used to be high net-worth individuals and executives of multi-national organizations, but kidnappers have expanded their reach. In the current climate, journalists, aid workers, and family members of executives are all high value targets, and hijack scenarios also fall into that equation.
The plethora of kidnappings and hijackings constitute an international crisis. What tools do we have to fight against this increasing threat? There are twenty-five elite kidnap negotiators who travel to the globe's hotspots to bring hostages home, through negotiation or recovery, and they are called response consultants or freedom brokers.
Local to Toronto, author K.J. Howe has immersed herself in the world of kidnapping and hijackings for the last five years, interviewing kidnap negotiators, former hostages, kidnap and ransom insurance executives, hostage reintegration experts, psychiatrists specializing in the captive's mindset, and the Special Forces soldiers who deliver ransoms and execute rescues.
Howe's research culminates in her stunning sequel of Thea Paris' adventures, a strong female heroine with type 1 diabetes, and the latest book, SKYJACK, published under the Hachette Book Group umbrella in the US, Canada, U.K. and many foreign territories. The book has reached attention North America wide and has led to starred reviews, the one from the LIBRARY JOURNAL stating that, "K.J. Howe, the executive director of ThrillerFest, is a master storyteller, and even though this is her second novel, it demonstrates the talent of someone who has been crafting thrillers for decades."
K.J. Howe's novel featuring elite kidnap negotiator Thea Paris has received positive and international acclaim from some of North America's most influential mediums and authors including:
➢ Starred and Boxed Review from Publishers Weekly: "In-depth character studies match the high tension. With this nail-biter, Howe seals her place as a first-class purveyor of a
➢ Booklist review from March 15th: "Howe is so committed to her story and skillful in its execution that the suspense scenes, especially when Paris' group attempts to close in on the terrorists amid a crowd of tourists, are difficult to turn away from. And when Paris has to single-handedly battle and hangarful of thugs, the action is so exhilarating that we wish the scene would go on longer."
➢ NYT Bestseller Linwood Barclay shares, "The Freedom Broker was no fluke. With Skyjack, Howe shows she is the real deal. An honest-to-god, first class thriller writer who will have your knuckles turning white as you flip the pages."
➢ Steve Berry, NYT Bestseller states, "Thea Paris has returned in Skyjack, a pulse pounding treat, sharp as a piece of Damascus steel. If you're not reading K.J. Howe, you're missing out."
➢ Gary Noesner, Retired Chief of FBI Crisis Negotiation Unit shares, "Exotic locations, intricate plot twists, and rich characters make this a page-turning thriller you will not want to miss. I found myself eager to read the next chapter and then the next, to discover how the unfolding challenges would be addressed… Pick up, strap in, and prepare for an action-packed Journey."
➢ Lee Child, #1 International Bestseller, "Another sensational Thea Paris adventure, Skyjack starts at 600 mph (literally) and never slows down. Full of dense, twisty, informed plotting, and real compelling characters. Howe is a keeper!"
The book is available on Chapters/Indigo, Amazon, and Barnes & Noble in all formats North America Wide, and more information about K.J. Howe is available on her website at: www.kjhowe.com.
About the Author: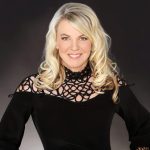 She attended Salzburg International Preparatory School, Neuchâtel Junior College, and Albert College before earning a Specialists Degree in Business from the University of Toronto. K.J. found success in the corporate world, but her passion for travel, adventure, and stories drew her back to school where she earned a Masters in Writing Popular Fiction from Seton Hill University.
She also won several writing awards, including three Daphne du Maurier Awards for Excellence in Mystery and Suspense. While honing her fiction skills, K.J. worked as a medical, health, and fitness writer.
She then became involved with the International Thriller Writers as the executive director of ThrillerFest, the organization's annual conference held every July in New York City. K.J. is an avid tennis player, cyclist, and swimmer. Travel and adventure still rank high on her priority list. She has had the pleasure of riding racing camels in Jordan, surfing in Hawaii, zip lining in the Costa Rican jungle, diving alongside Great White Sharks in South Africa, studying modern combat in the Arizona desert, and working with elephants in Botswana.
Home is in Toronto, Canada, but she is often missing in action. K.J. Howe is available for interviews and appearances along with presentations about kidnapping and travel safety. For media appearances, interviews, speaking engagements, and/or book review requests please contact mickey.creativeedge@gmail.com by email or by phone at 403.464.6925