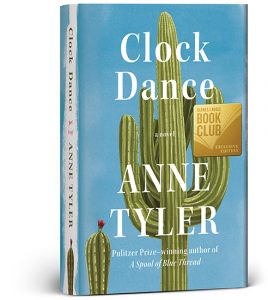 Pulitzer Prize winning author Anne Taylor's book Clock Dance has been named Barnes & Noble's Book Club. The booksellers national book club "brings readers in communities across the country together to discuss some of the greatest books being published."
A free book club night to discuss the novel will be held on Wednesday, August 8th, from 7:00 – 8:00 p.m. Customers can sign up to attend the discussion at their local bookstore, or online. Our Cafés will be sampling food and beverages during the event, and each store will give away one signed copy of the book.
Customers can pre-order the book and sign up for the Book Club in their local store and online at BN.com/bnbookclub.
From BN's Press Release:
Anne Tyler is the bestselling author of more than twenty novels, winner of the Pulitzer Prize, and a favorite of critics, readers, and book clubs everywhere. Her new novel, Clock Dance, is classic Anne Tyler, elevating the joy and heartbreak of everyday life into art, much like her most recent bestseller, A Spool of Blue Thread.
Clock Dance is a story of family, a story about the passage of time, a story about resilience, second chances, and self-discovery. At its heart is Willa Drake, a wife and mother longing to be a grandmother, a woman-of-a-certain-age who finds herself in uncharted territory after a phone call from a stranger—and her own impulsive decision.
Character-driven, emotionally satisfying, timely and thoughtful, Clock Dance follows the arc of a woman's life from childhood to adulthood, and it's filled with the "What If's?" and "Would I's?" that readers will want—and need—to discuss with other readers, which is why we've made it our newest Barnes & Noble Book Club selection.