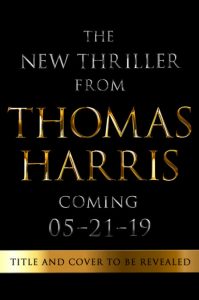 Grand Central Publishing (GCP)  is excited to announce the acquisition of the highly anticipated new novel by Thomas Harris, the international bestselling author of Silence of the Lambs and Hannibal.  It will be his first standalone thriller since Black Sunday was published in 1975.  The book will be published in hardcover and ebook editions on May 21, 2019, and narration for the simultaneous Hachette Audio publication will be performed by Harris himself.  The title and cover are to be revealed this Fall.
Ben Sevier, SVP and Publisher of GCP, acquired the world rights, excluding the UK, from Morton Janklow of Janklow & Nesbit Literary Agency.  William Heinemann will publish in the United Kingdom, and publishing partners across the globe will be secured in the coming weeks.
Harris said, "I'm very pleased that Grand Central and Heinemann are publishing my new novel."
Sevier said, "There are some writers whose work looms particularly large in our culture, whose influence can be felt across media and genres, and whose characters seem to exist on another plane of our own reality. Thomas Harris is one of those writers, and the opportunity to publish the latest in a truly groundbreaking body of work is a dream."
Thomas Harris is the author of five novels with worldwide sales of over 30 million copies and may be best known for his character Hannibal Lecter. All of his books have been made into films, including most notably the multiple Oscar winner, The Silence of The Lambs.  Harris began his writing career covering crime in the United States and Mexico, and was a reporter and editor at the Associated Press in New York.
For updates about Thomas Harris's new novel, please visit thomasharrisbook.com.