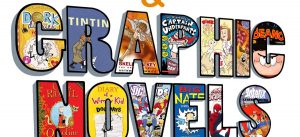 July 2019 will be Booklist's Graphic Novels in Libraries Month, an innovative, first-of-its-kind program through which the American Library Association's review journal for public libraries will forge key partnerships between libraries and publishers while providing librarians with the tools they need to select, curate, and promote graphic titles for patrons of all ages.
The program kicks off at the ALA's annual conference in Washington, D.C. (June 20–25), with a panel featuring star author/illustrators and a meet-and-greet in the Booklist booth on the exhibit floor with creators from Boom!, DC, Diamond Distribution, Macmillan, Scholastic, Simon & Schuster, Viz Media, and others. Booklist's blockbuster July issue, Spotlight on Graphic Novels, will include a 32-page supplement offering much-needed professional resources for librarians curating graphic-novel and comics collections.
That's just the start of a month chock-full of exciting offerings. Throughout July, Booklist will share original videos featuring authors and illustrators from @ALA_Booklist on Twitter using the #ReadGraphic hashtag, inviting all readers to join the conversation. Select public libraries across the U.S. will receive boxes stuffed with free books and swag, and Booklist will partner with these libraries to help bring authors and illustrators to comics-related library events. On July 9, Booklist will host a free webinar alerting librarians and readers to the hottest forthcoming titles. Booklist will also participate in San Diego Public Library's Comic Conference for Educators and Librarians (CCEL), taking place simultaneously to the world-renowned San Diego Comic-Con.
"I'm thrilled to bring much-needed attention to graphic novels in libraries, particularly in conjunction with the official establishment of ALA's Graphic Novels Round Table. The recent boom in comics and graphic novels in all genres and for all ages is impossible to ignore—as any librarian will tell you—and we're eager to showcase the work of librarians with first-hand experience developing graphic novel collections and programs in addition to a more-robust-than-usual slate of features and reviews of exciting new titles." says Booklist Books for Youth Editor Sarah Hunter.
Booklist's Graphic Novels in Libraries Month is generously supported by Boom!, DC, Diamond Distribution, Macmillan, Scholastic, Simon & Schuster, Viz Media, and other sponsors to be announced.
Booklist is the book review magazine of the American Library Association, considered an essential collection development and readers' advisory tool by thousands of librarians for more than 100 years. Booklist Online includes a growing archive of 200,000+ reviews available to subscribers as well as a wealth of free content offering the latest news and views on books and media.