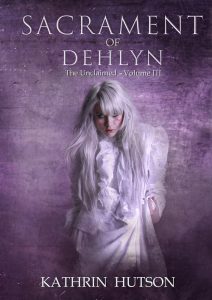 One blood of the veil still walks, and he has learned to listen." Darkness and complexity at its finest!
Vermont, USA: There has been a new trend and energy in the genre of Fantasy; the genre has changed from the release of standalone, one-shot novels and graduated to complex themes, intricate storylines, and ultimately the marketability of box sets and series with multiple novels circulated. Dark Fantasy is most definitely a key trend in fiction and one that is becoming a hot commodity, with evidence in both television and full-length feature film. Local Vermont author Kathrin Hutson took notice and crafted her own version of a multi-layered series culminating with the ending of her trilogy, Sacrament of Dehlyn (Book Three of The Unclaimed Series), released on February 16, 2019. Kathrin has one big advantage over most undertaking the Dark Fantasy genre: she had immediate success in her writing, becoming a best seller on Amazon almost immediately via her first novel, and has had extensive experience delving into fantasy stories, as she has been crafting them for over eighteen years.
Sacrament of Dehlyn, published by Exquisite Darkness Press, tells the final chapter of Kherron—a character created with rawness and complexity in mind and with a fighting spirit throughout the entire trilogy. Kherron's journey to seek out Dehlyn, an ancient woman to whom he has given his soul and whom he has vowed to protect, has ended. Kherron is now a guardian of nature itself. After forcing himself to abandon the woman he once loved, he now faces a desperate choice between seizing the freedom he never had and accepting his new role as a Blood of the Veil—to save all those under his protection from the utter destruction of unleashed power. Extensive writing research was performed to ensure that Hutson's characters displayed a realism not often shown in the Fantasy genre. This allowed her to craft a story that not only depicts elements of dark yet elaborate fiction but also gives her readers a true sense of reality with each chapter, paragraph, and word.
The result of Hutson's writing experience has allowed her to create a dark world that will instantly reel in and captivate readers. The mixture of subtle romance coupled with dark imagery has been wildly successful with the first two installments of The Unclaimed series, and there is no evidence to suggest the trend will not continue with the last and final installment.
Freed from the unending torment of the violet mists and his forty-eight deaths within the void, Kherron has reentered the world an entirely different man. He's broken his vow to Dehlyn, to find and protect her at all costs, releasing the amarach vessel's hold on him forever. Without this tether to the green- eyed woman with more ancient power than any one being was ever meant to possess, the path before him is his own to choose.
As a Blood of the Veil, with command over living things and the elements of the natural world, he is a protector—the voice that speaks between the natural world and the unseen. But Torrahs the Wanderer and the Brotherhood still strive to unleash The Unclaimed's vast and terrible knowledge. The foundation of balance has cracked. The Nateru have lost themselves, the amarach have been undone, and Kherron must do what has been asked of him. Not because it was foretold, but because the things he cares about as a free man now face the edge of destruction. But is his final choice worth the cost of making it?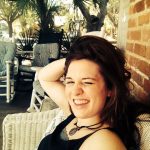 Born and raised in Colorado, adopted by South Carolina, and at home in Vermont, Kathrin Hutson has been writing fiction for eighteen years, editing for eight, and plunging in and out of reality since she first became aware of the concept. Kathrin specializes in Fantasy, Sci-fi, and Speculative Thrillers, with a splattering of short stories that weave in and out of literary fiction.
In addition to writing exquisitely dark fiction, Kathrin runs her own independent editing company, KLH CreateWorks, for fiction novels of all genres. She also serves as Fiction Co-Editor for Burlington, Vermont's Mud Season Review literary magazine. Needless to say, she doesn't have time to do anything she doesn't enjoy.
Kathrin keeps a vast collection of single earrings (and wears them), has fulfilled her dream of naming one of her dogs Brucewillis, and can't remember the last time she didn't laugh at one of her own jokes.