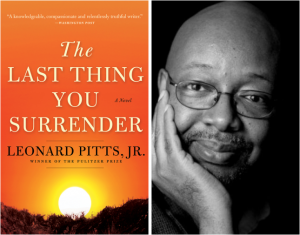 The Last Thing You Surrender: A Novel of World War II by Leonard Pitts Jr.
Could you find the courage to do what's right in a world on fire?
(Reprinted with permission from Black Pearls Magazine)
Pulitzer-winning journalist and bestselling novelist Leonard Pitts, Jr.'s new historical page-turner is a great American tale of race and war, following three characters from the Jim Crow South as they face the enormous changes World War II triggers in the United States.
An affluent white marine survives Pearl Harbor at the cost of a black messman's life only to be sent, wracked with guilt, to the Pacific and taken prisoner by the Japanese . . . a young black woman, widowed by the same events at Pearl, finds unexpected opportunity and a dangerous friendship in a segregated Alabama shipyard feeding the war . . . a black man, who as a child saw his parents brutally lynched, is conscripted to fight Nazis for a country he despises and discovers a new kind of patriotism in the all-black 761st Tank Battalion.

Set against a backdrop of violent racial conflict on both the front lines and the home front, The Last Thing You Surrender explores the powerful moral struggles of individuals from a divided nation. What does it take to change someone's mind about race? What does it take for a country and a people to move forward, transformed?
Nora Jean M. Goodreads 5-Star Customer Review for The Last Thing You Surrender 
This is a POWERFUL read, and I highly recommend it to anyone who is an avid reader. The language is beautiful although the story is haunting. The character development is very real, and it makes the reader hurt even more for these people who become important to the readers' lives. This is an area of history that we do not learn in school, and the author has provided an imitate portrait of this time. Read this book!
Publishers Weekly Editorial Review for The Last Thing You Surrender
Leonard Pitts Jr., a Pulitzer Prize–winning journalist, turns again to America's fraught history of race relations in this unflinching, gritty WWII saga. It centers on a trio of finely drawn characters, two black and one white, all from Alabama, whose worlds collide because of Pearl Harbor.
Marine Private George Simon—wealthy, religious, white—survives the sinking of his ship because Eric Gordy, a black messman, rescues him. Eric dies, and while George recuperates, he pays a condolence call on Eric's widow, Thelma. She and her brother, Luther Hayes, a bitter alcoholic, are living with the memory of their parents' lynching 20 years earlier.
George and Thelma begin a correspondence after he returns to active duty; she takes a job in a shipyard. Luther, deciding this is a white man's war, tries to evade the draft but ends up serving with a tank battalion in Europe. George endures horrific conditions in the Pacific as Thelma faces growing racial hostility at work, culminating in a brutal moment of violence that compels her to make a difficult decision.
While remaining true to his characters, Pitts brings the story lines to realistic conclusions even as he holds out hope for the future, resulting in a polished, affecting novel.
About the Author
Leonard Pitts, Jr., is the author of the novels The Last Thing You Surrender: A Novel of World War II , Grant Park, Freeman, and Before I Forget, as well as two works of nonfiction.
Leonard is a nationally syndicated columnist for the Miami Herald and winner of the 2004 Pulitzer Prize for commentary, in addition to many other awards. Born and raised in Southern California, Pitts lives in Maryland outside Washington, DC.
Purchase The Last Thing You Surrender: A Novel of World War II by Leonard Pitts Jr.
https://www.agatepublishing.com/titles/the-last-thing-you-surrender
https://www.amazon.com/Last-Thing-You-Surrender-Novel/dp/1572842458
https://www.barnesandnoble.com/w/the-last-thing-you-surrender-leonard-pitts-jr/1128941167#/