After a career working with rare books at the Boston Public Library, Addie Greyborne is back in her seaside New England hometown—where unfortunately, murder is not so rare . . .
Gossip columnists love a bold-faced name—but "Miss Newsy" at Greyborne Harbor's local paper seems to specialize in bald-faced lies. She's pointed a finger of suspicion at Addie after librarian June Winslow never makes it home from a book club meeting. And when June's found at the bottom of a steep flight of stairs, Addie's not only dealing with a busybody, but a dead body.
It's a good thing the guy she's dating is the police chief. But both the case and her love life get more complicated when a lanky blonde reporter from Los Angeles shows up. She's trying her hardest to drive a wedge between the couple . . . as if Addie doesn't have enough problems dealing with angry townspeople. Despite all the rumors, Addie doesn't know a thing about the murder—but she plans to find out. And the key may lie in a book about pirate legends that June published. Now she just has to hunt down the clues before she becomes a buried treasure herself . . .
You can purchase PROLOGUE TO MURDER at:
Kensington Books
Jane's boyfriend is missing, and she thinks she may find him at North Carolina's historic Biltmore Estate. Officially, she's there to learn about luxury hotel management, but she's also prowling around the breathtaking buildings and grounds looking for secret passageways and clues. One of the staff gardeners promises to be helpful . . . that is, until his body turns up in a potting shed.
When she finally locates the kidnapped Edwin, his captor insists that she lead him back to Storyton Hall, convinced that it houses Ernest Hemingway's lost suitcase, stolen from a Paris train station in 1922. But before they can turn up the treasure, the bell may toll for another victim . . .
"Combines clever clues, a smart and courageous heroine and an interesting setting in a whodunit that will inspire readers to make further visits to Storyton Hall." —Richmond Times-Dispatch on Murder in the Paperback Parlor
You can purchase MURDER IN THE READING ROOM at: 
Kensington Books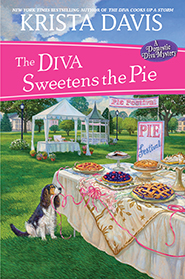 The Diva Sweetens The Pie: A Domestic Diva Mystery #2 by Krista Davis
In New York Times bestselling author Krista Davis's new Domestic Diva mystery, Old Town's annual Pie Festival crumbles into chaos after a celebrity judge is murdered, leaving it up to entertaining maven and sometime-sleuth Sophie Winston to dole out justice . . .
Nothing heats up Old Town quite like the annual Pie Festival, and this year is no exception, especially since Sophie's professional rival, Natasha Smith, is barred from participating. Sophie, meanwhile, has been asked to oversee the pie eating contest. But the drama really rolls out when celebrity judge, Patsy Lee Presley, host of television's most popular cooking show, bites the crust during the competition, and Sophie's friends are suspected of the crime.
As the folks of Old Town dish, the tough truth about Patsy's meteoric rise to domestic stardom begins to leak. It turns out that Patsy's sweet exterior hid a secret sour side, which alienated many of her closest allies, including a jilted ex-husband, a bitter ex-mentor, and a jaded ex-best friend. With the festival falling apart, and her friends in danger of being boxed up for murder, Sophie must cobble together the clues and stop a flakey fiend from serving up any more deadly desserts.
Includes delicious recipes and entertaining tips!
You can purchase THE DIVA SWEETENS THE PIE at:
Kensington books
It's been quite a year for novelist Liz Holt. She's overcome a lot and is finally feeling at peace with her new life at her family's hotel, the Indialantic by the Sea, on the beautiful barrier island of Melbourne Beach, Florida. She's ready to ring in the New Year at the Florida Writes Literary Masquerade Ball.
But when her ex-boyfriend surprises her at the ball, she can't disguise her anger, and the two engage in a very public argument. When her ex turns up on the hotel grounds, shot through the heart, Liz finds herself topping the suspect list. With the help of family and friends, she needs to clear her name before the real killer waltzes away scot-free . . .
Recipes included!
Amy's enjoying a rare moment of relaxation when a customer shows up seeking her expertise in ID-ing an unusual bird she's seen flying around her wooded cabin at the edge of town. Ruby Lake, North Carolina, newcomer Yvonne Rice resembles an exotic bird herself—apparently the kind that doesn't fly. When she's found shot to death in her locked cabin, the only witness found is a statue of a voodoo deity staring down from the mantel.
Does the rare yellow cardinal Yvonne spotted hold any clues to her demise? What about the Ouija board spelling out the words I am murdered? As Amy delves deeper into Yvonne's life and meets her strangely secretive neighbors, she's determined to stop a fowl-hearted murderer from migrating to a new killing ground . . .