Shadowpaw Pres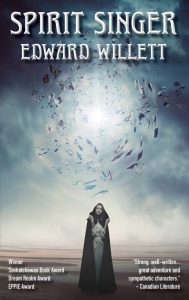 s releases brand-new, revised edition of multiple-award-winning young adult fantasy
The latest release from Regina publisher Shadowpaw Press is a brand new edition, revised by the author, of Edward Willett's multiple-award winning young adult fantasy . Available now in ebook format, it will come out in print on April 30.
Originally released in 2002 by Awe-Struck E-books in electronic form and in print by Earthling Press, Spirit Singer won the Regina Book Award for best book by a Regina author; a Dream Realm Award (young adult category) for best electronically published science fiction, fantasy, and horror; and an EPPIE Award for best electronically published young adult fiction. A second edition was published in 2013 by Tyche Books.
Spirit Singer is the story of Amarynth, a teenaged girl who has been gifted – or cursed, as she sometimes thinks – with the ability to lead the spirits of the dead from the Lower World through the Between World to the Gate of the Upper World and the Light that lies beyond it.
While she is still an apprentice, her grandfather and tutor is slain by a mysterious creature in the Between World, an evil Beast blocking access to the Upper World's Gate. Without a Spirit Singer, her village cannot survive, so Amarynth embarks on a hazardous quest to find out what the Beast is, how it can be defeated, and how she can become a full-fledged Spirit Singer – a quest that takes her not only from her tiny seacoast home to the city of Havenheart and the haunted mountains to its south, but across the even more rugged terrain of her own soul.
Spirit Singer garnered immense praise when first released: ".
..deserved the Saskatchewan Book Award it won…a strong, well-written book with great adventure and sympathetic characters…fast-paced adventure, sword-play, ghostly help, kidnappings, automatons who serve pure evil, royalty, and brave commoners…
It is about deception, both external and internal, in the eternal search for love and acceptance. It is about the need to accept oneself to be able to move forward and achieve great things and the need to be wise and discerning about others." – Lynn (J.R.) Wytenbroek, Canadian Literature Magazine
"This is a fast-paced, spiritual quest book, full of narrow escapes, evil masquerading as good, good appearing in nasty people (just like in real life!), adventure, dreams, and bits of wisdom. The writing is spare and the words wellchosen, so that complex characters and interesting places emerge full-blown in the reader's mind, and the plot moves apace. I felt always in the story, and not a mere spectator/reader. Written for teenagers, but this fifty-something guy had a great time." – 
David Waltner-Toews, Saskatchewan Book Awards juror
"Clearly defined characters, setting, and plot carry a reader eagerly from page to page through adventure-filled chapters that deftly conclude with cliff-hangers…
The plot is fast-paced and clever, the writing never disappoints, a and the author clearly keeps his target audience in mind. A great read from start to finish."
 – Shirlee Matheson
, Saskatchewan Book Awards juror "
…a fun novel with engaging characters and having all the basic elements of a good fantasy…young readers would likely get much more out of this book in terms of good succinct plotting and writing than they'd ever be likely to from the droves of role-playing game tie-ins and fat fantasy trilogies."
 – Georges T. Dodds, SF Site
"This book takes the reader on a magical journey to a mystical land…It is a quick, but very satisfying read; I spent any free time I had reading over the two days it took me to read the story. I recommend this book for anyone that is in the mood for an adventure…
Spirit Singer definitely does not disappoint."
 – Amy Mehta, MyShelf.com
More about the author
Edward Willett is the Aurora Award-winning author of more than sixty books of science fiction, fantasy, and nonfiction. His most recent novel is Worldshaper ("a rollicking contemporary fantasy"—Publishers Weekly starred review), Book 1 in the Worldshapers series from DAW Books. Book 2, Master of the World, comes out in September. His short-story collection Paths to the Stars (Shadowpaw Press) was shortlisted for two 2019 Saskatchewan Book Awards. A YA dark-fantasy novel, Changers, is in the works for ChiZine Publications. Willett also hosts The Worldshapers podcast (www.theworldshapers.com), featuring conversations with science fiction and fantasy authors about their creative process.
You can find out more about him at www.edwardwillett.com.
For more information Edward Willett 306.536.5421 ewillett@sasktel.net www.edwardwillett.com
Shadowpaw Press publishers@shadowpawpress.com
www.shadowpawpress.com