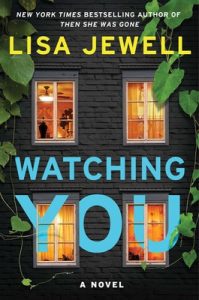 Watching You: A Novel by Lisa Jewell
"Quickly and assuredly, Jewell builds an ecosystem of countervailing suspicions…Tricky, clever, unexpected." —New York Times Book Review
"Brace yourself as Jewell stacks up the secrets, then lights a long, slow fuse." —People
"A seize-you-by-the-throat thriller and a genuinely moving family drama." —A.J. Finn, #1 New York Times bestselling author of The Woman in the Window
The instant New York Times and #1 Sunday Times bestselling author of the Then She Was Gone delivers another suspenseful page-turner about a shocking murder in a picturesque and well-to-do English town, perfect "for fans of Gone Girl, The Girl on the Train, and Luckiest Girl Alive" (Library Journal).
Melville Heights is one of the nicest neighborhoods in Bristol, England; home to doctors and lawyers and old-money academics. It's not the sort of place where people are brutally murdered in their own kitchens. But it is the sort of place where everyone has a secret. And everyone is watching you.
As the headmaster credited with turning around the local school, Tom Fitzwilliam is beloved by one and all—including Joey Mullen, his new neighbor, who quickly develops an intense infatuation with this thoroughly charming yet unavailable man. Joey thinks her crush is a secret, but Tom's teenaged son Freddie—a prodigy with aspirations of becoming a spy for MI5—excels in observing people and has witnessed Joey behaving strangely around his father.
One of Tom's students, Jenna Tripp, also lives on the same street, and she's not convinced her teacher is as squeaky clean as he seems. For one thing, he has taken a particular liking to her best friend and fellow classmate, and Jenna's mother—whose mental health has admittedly been deteriorating in recent years—is convinced that Mr. Fitzwilliam is stalking her.
Meanwhile, twenty years earlier, a schoolgirl writes in her diary, charting her doomed obsession with a handsome young English teacher named Mr. Fitzwilliam…
In Lisa Jewell's latest brilliant "bone-chilling suspense" (People) no one is who they seem—and everyone is hiding something. Who has been murdered—and who would have wanted one of their neighbors dead? As "Jewell teases out her twisty plot at just the right pace" (Booklist, starred review), you will be kept guessing until the startling revelation on the very last page.
About The Author
Lisa Jewell is the internationally bestselling author of eighteen novels, including the New York Times bestseller Then She Was Gone, as well as I Found You, The Girls in the Garden, and The House We Grew Up In. In total, her novels have sold more than two million copies across the English-speaking world and her work has also been translated into sixteen languages so far. Lisa lives in London with her husband and their two daughters. Connect with her on Twitter @LisaJewellUK and on Facebook @LisaJewellOfficial.
You can purchase Watching You at Amazon.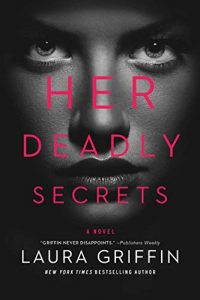 Her Deadly Secrets By Laura Griffin
A young private investigator finds out the price of keeping deadly secrets when a vicious killer sets his sights on her in this pulse-pounding thriller from the USA TODAY and New York Times bestselling author of the Tracers series.
Private investigator Kira Vance spends her days navigating the intricate labyrinth of Houston's legal world, and she knows all of its shadowy players and dark secrets.
On a seemingly normal day, she's delivering a report to her top client when suddenly everything goes sideways and the meeting ends in a bloodbath. Twenty-four hours later, the police have no suspects but one thing is clear: a killer has Kira in his sights.
Fiercely independent, Kira doesn't expect—or want—help from anyone, least of all an unscrupulous lawyer and his elite security team. Instead, she launches her own investigation, hoping to uncover the answers that have eluded the police. But as Kira's hunt for clues becomes more and more perilous, she realizes that she alone may hold the key to finding a vicious murderer. And she knows she must take help wherever she can find it if she wants to stay alive…
Written with Laura Griffin's signature "gritty, imaginative, sexy" (Cindy Gerard, New York Times bestselling author) style, Her Deadly Secrets is an electrifying and scintillating novel that packs a powerful punch.
Purchase Her Deadly Secrets (Wolfe Security) by Laura Griffin
https://www.amazon.com/Her-Deadly-Secrets-Wolfe-Security/dp/1501162438
About The Author
Laura Griffin is the New York Times bestselling author of the Tracers series, the Wolfe Sec series, the Alpha Crew series, and several other novels. A two-time RITA Award winner and the recipient of the Daphne du Maurier Award, Laura lives in Austin, where she is working on her next book. Visit her at LauraGriffin.com, and on Facebook at Facebook.com/LauraGriffinAuthor.
Reprinted with permission from Black Pearls Magazine.