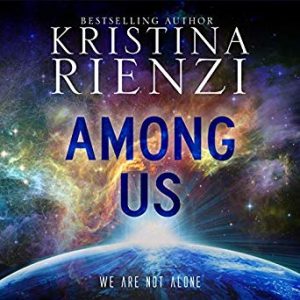 A thrilling new-adult sci-fi chosen as an Audible Editors Select Pick for April 2019 and featured in the 2018 ACX University webcast series.
Danger lurks in the unknown and knowledge can kill. An out-of-this-world collision of new-adult sci-fi and edge of your seat thriller, Among Us by Kristina Rienzi features alien conspiracy and the clandestine government agency set out to silence truth seekers and believers.
When Marci Simon, conservative English professor by day and controversial extraterrestrial blogger by night, is given a classified document her life is thrown into chaos. When it becomes clear Marci knows too much, the Extraterrestrial Security Agency (ESA) sets out to destroy her and the secrets she's sworn to share with the world.
Rienzi's attention to detail will have readers of Among Us transported, not just to a fictional location of the authors creation, but to New Jersey. Her writing style and descriptions are accurate, allowing readers to feel just as at-home to the surroundings as the characters she's written. The action starts and doesn't stop, and as the thought-provoking themes unfold Rienzi may just make a believer out of anyone.
Chosen as an Audible Editors Select Pick for April 2019 in the Thriller category, Among Us was also spotlighted by ACX in 2018 to help educate authors on choosing the best narrator for their audiobook. Directly from the control room with Audible Studios' director, the audience was given a glimpse of the exciting process of choosing an audition script and building a profile to seek auditions on ACX, bringing the story to life. After the video was released, ACX held an open casting call to help Rienzi find the perfect narrator for Among Us. She chose narrator Lewis Arlt, a veteran actor for 35 years, performing on Broadway, regional theatre, and on television, as well as penning numerous scripts for daytime soaps, and has been both a Daytime Emmy and Writers Guild Award winner.
About the Book: Danger lurks in the unknown…
Marci Simon lives a double life: conservative professor of English by day, and controversial blogger of aliens by night. But when a classified document lands in her lap, her two worlds collide in an explosive revelation of shocking and deadly secrets.
Despite imminent danger at every twist, Marci embarks on an unstoppable quest to expose the terrifying truth. Only she never anticipated the entangled nebula of dark lies, nor the never-ending wormhole the government would spiral through to silence her forever.
Knowledge can kill.
And Marci knows too much. With global security at risk, no one can be trusted. To debunk the stratosphere of deceit, Marci races at the speed of light to escape the grips of the clandestine Extraterrestrial Security Agency (ESA) hunting her before she vanishes like all the others. But Marci is unique. Despite being the ESA's prime target, she's also the skeleton key to the deadliest truth in the history of the universe.
The nightmare is real, and it's only just begun. Marci must take a nefarious leap of faith before her options, and her breaths, evaporate into a black hole for all eternity.
YOU CAN PURCHASE THE AUDIO BOOK OF AMONG US AT:
AMAZON
About the Author: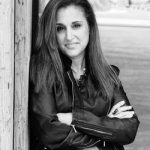 Kristina Rienzi is a Jersey Shore thriller author, writer coach, and the former President of Sisters in Crime-Central Jersey. An INFJ who dreams beyond big, Kristina encourages others (and herself) to embrace the unknown through her stories. When she's not writing or drinking wine, Kristina is spoiling her fur-beasts, watching true crime stories, singing (and dancing) to Yacht Rock Radio or rooting for the WVU Mountaineers. She believes in all things paranormal, a closet full of designer bags, manicures, the Law of Attraction, aliens, angels, and the value of a graduate degree in psychology.
Kristina is available for interviews, media appearances, speaking engagements, and/or book review requests – please contact mickey.creativeedge@gmail.com by email or by phone at 403-464-6925