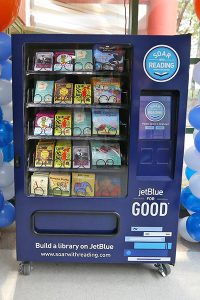 New vending machines have been installed in several areas of NYC, especially in those areas that are considered under-served communities. Part of the Soar With Reading Program the books are free and focus on kids from toddlers to teens. JetBlue has partnered with the program and says; "They can take as many as they want, they are free. One hundred percent, and you don't have to return them. Book ownership does help raise levels of intelligence in kids. It raises curiosity, it raises their ability to feel conscious, aware and motivated to keep on learning."
JetBlue – "This summer, JetBlue is placing six thoughtfully designed vending machines that dispense brand-new, free books for kids aged 0 – 14 in New York City. Kids are allowed to take as many books as they are interested in – no strings attached — in hopes that providing free access to books in a fun and convenient way will encourage reading."
To date, over $3-million in books have been donated by JetBlue and other sponsors.
Book vending machines are also in Washington, D.C., Detroit, Ft. Lauderdale, and San Francisco. Plans are in the works for additional machines in other cities.
The vending machines will be replenished every two weeks so kids can keep coming back for a whole new selection of books.
Soar With Reading 2019 Vending Machine Locations
Brooklyn: Brownsville Recreation Center, 1555 Linden Blvd., Brooklyn, NY 11212
Bronx: PAL, Inc. New South Bronx Center, 991 Longwood Ave., Bronx, NY 10459
Manhattan: Riverbank State Park, 679 Riverside Drive, New York, NY 10031
Queens: Queens Public Library – Main Branch, 89-11 Merrick Blvd., Jamaica, NY 11432
Queens: Ocean Bay Community Cornerstone, 67-10 Beach Channel Drive, Arverne, NY 11692
Staten Island: Faber Park, Richmond Terrace, Staten Island, NY 10302