Judgment Road, the first official novel in Christine Feehan's new Torpedo Ink series.
Reaper is the enforcer for the motorcycle club and his past is catching up with him. Trained as an assassin. Abused as a child. He's quiet, reserved and deadly as hell. So when he can't get Anya, the new bartender, out of his mind he wants her fired. He can't have that kind of distraction. Reaper is his own brand of danger and Anya knows it. But, the danger she's hiding from keeps her at the Torpedo Ink owned bar. And the longer she's around him, the harder it is to resist him.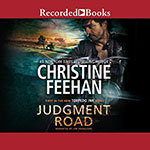 Next up is Vengeance Road!
They survived abuse. They became assassins. They escaped. Now Torpedo Ink has found a home and they will do anything to protect it and each other. When the VP of Torpedo Ink, Steele, sees the woman he's never gotten out of his system he'll do anything to keep her. But, her secret will change his life forever and it will make him a very dangerous man. Sometimes the only way to find redemption is down Vengeance Road.
Next is Ice's story and the novel is titled Vendetta Road.  Currently, Feehan is writing Absinthe's story and the title is not yet confirmed.